Do you love the taste and texture of dragon fruit, one of the most exotic and nutritious fruits in the world? Do you want to know how this amazing fruit is grown, processed and offered to you as a premium product? Do you want to experience the quality and excellence that FruitBuys Vietnam brings in every bite? If yes then you should read this article!
FruitBuys Vietnam is a professional wholesale supplier and exporter of premium dried fruits, freeze dried fruits, healthy snacks, exotic fruits, chips, vegan snacks, sugar-free snacks and low-sugar snacks with advanced drying technologies such as: Freeze Drying (FD), Air Drying (AD), Vacuum Frying (VF). We focus on quality assurance, wholesale prices, high profit margins and reliable logistics & supply services with 7 years of experience.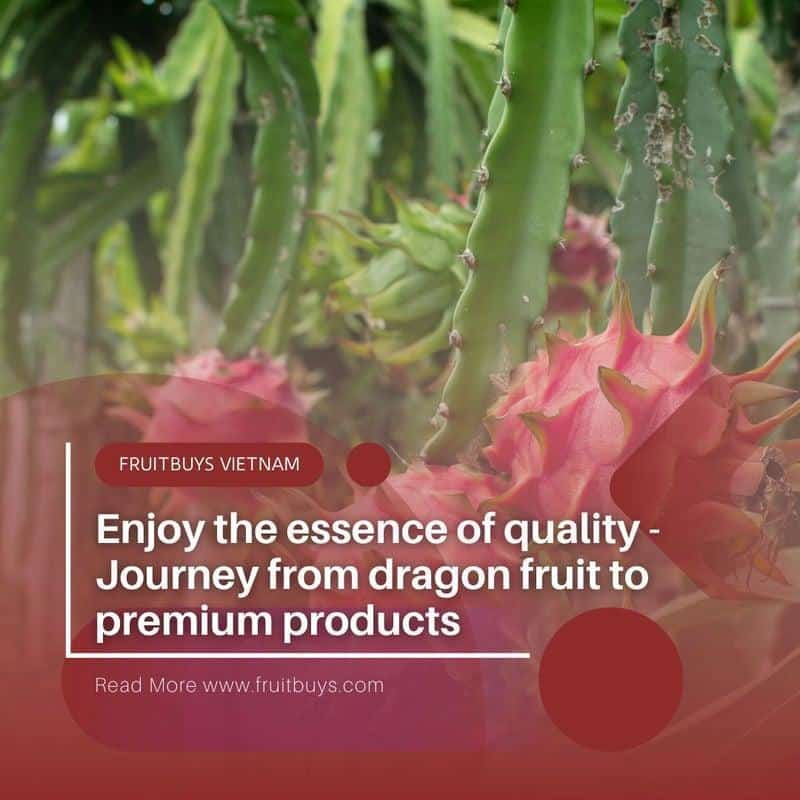 One of our featured products is dragon fruit (also known as Pitaya), a tropical fruit originating from Vietnam, with bright pink skin, white or red flesh with small colored seeds black. Dragon fruit not only has an attractive appearance but is also packed with antioxidants, vitamins, minerals and fiber that can benefit your health in many ways. Today, we will show you the Dragon Fruit Plant and the journey from dragon fruit to premium products and why you should choose FruitBuys Vietnam as a reliable partner to get quality products.
I. Quality from the source
The journey begins with dragon fruit, the source of our premium products. We take great care in selecting and growing dragon fruit trees to ensure the highest quality. We use sustainable and responsible farming practices that respect the environment and local communities. We also provide optimal growing conditions for dragon fruit trees in Vietnam, where the climate and soil are ideal for this fruit.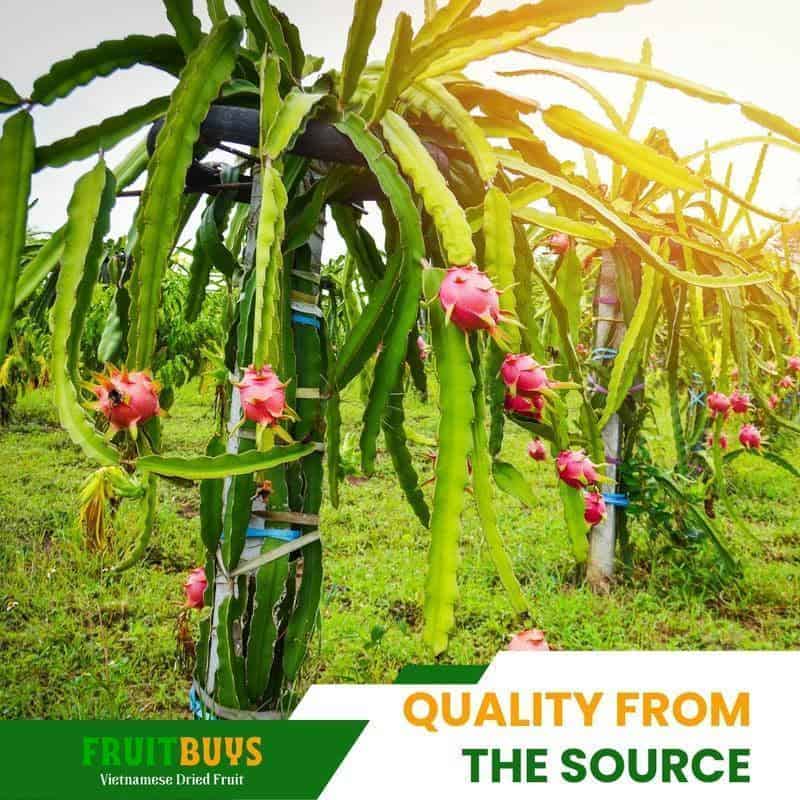 We only choose the best dragon fruit trees to plant based on their variety, health and yield. We monitor their growth and development closely and harvest them at the right time to preserve their freshness and flavor. We also adhere to strict hygiene and safety standards throughout the harvesting process to prevent any contamination or spoilage. By paying attention to every detail during the growing process, we ensure that our dragon fruit trees are of the best quality.
Unlock outstanding quality and value with a large supply of freeze-dried dragon fruit from FruitBuys Vietnam
II. Outstanding nutrition
The next step in the journey is to exploit the superior nutrition from our dragon fruit trees. We use advanced processing technology to preserve the natural properties of dragon fruit without affecting its nutritional value. We offer three types of processing technology: Freeze Drying (FD), Air Drying (AD) and Vacuum Frying (VF).
Freeze drying (FD): is a low-temperature dehydration process that freeze dried fruit and then removes the water by sublimation under low pressure. This preserves 95% of the food's color, flavor and nutrients.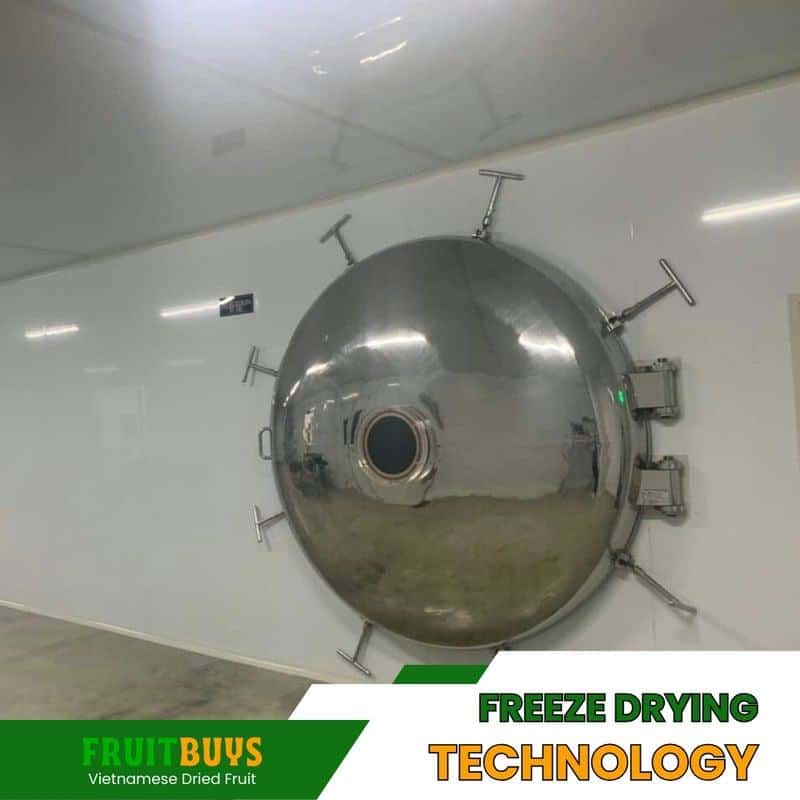 Air drying (AD): is a natural drying process that uses hot air to remove moisture from fruit. This maintains most of the food's color, flavor and nutrients.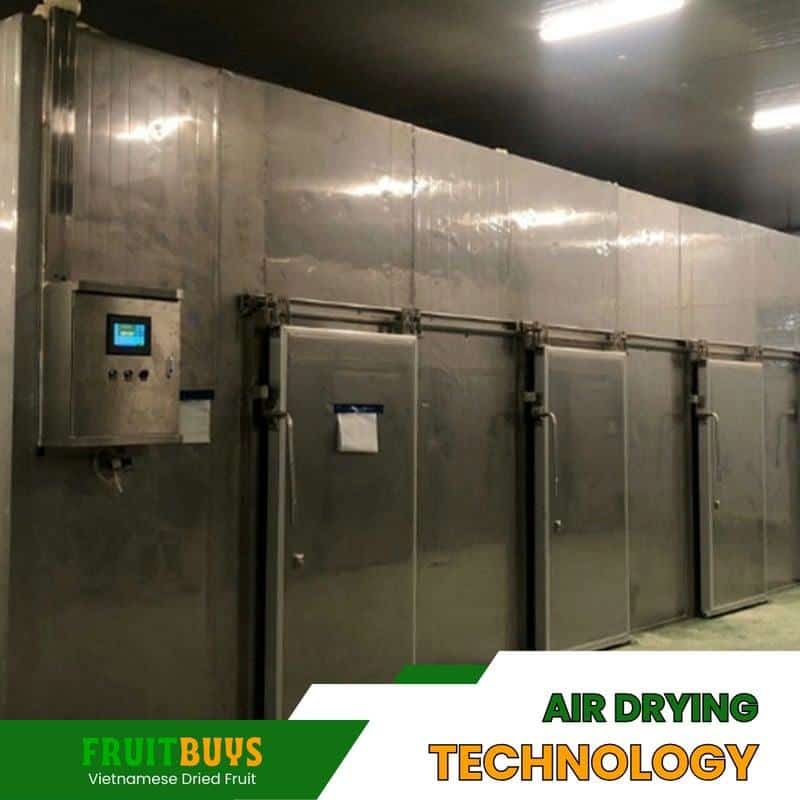 Vacuum frying (VF): is a frying process that uses hot oil under low pressure to cook fruit. This reduces oil absorption and retains most of the food's color, flavor and nutrients.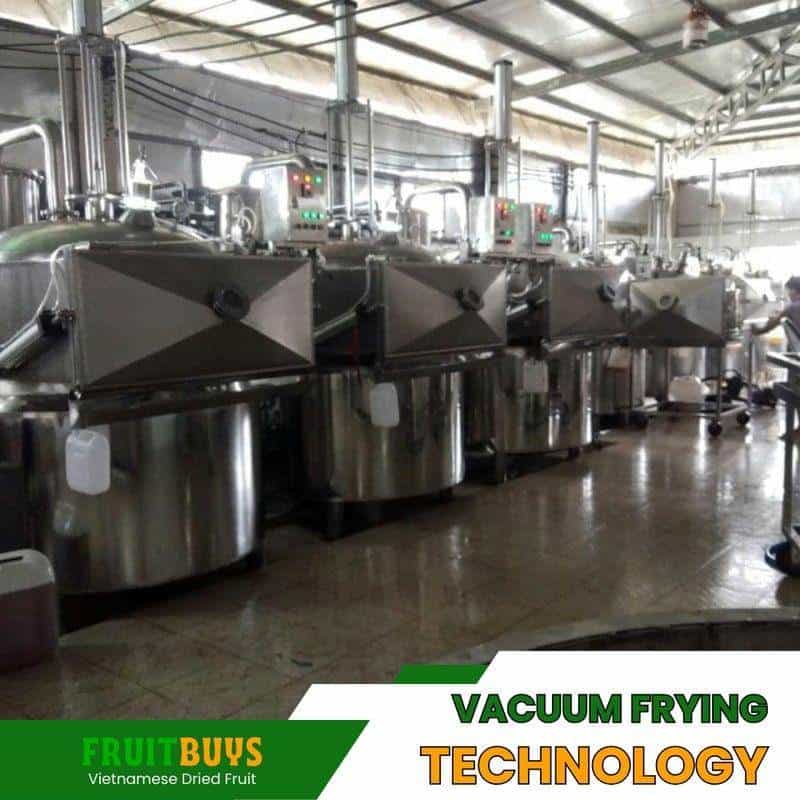 By using these processing technologies, we enhance the nutritional value of products derived from dragon fruit.
Differences Between Freeze Drying, Air Drying, And Vacuum Frying- 7 Surprising Facts You Need to Know
III. Guaranteed outstanding quality
The third step in this journey is to ensure the absolute quality of our products. We adhere to strict quality testing and certification procedures throughout the production process, from cultivation to final product. We only use pure and natural ingredients for our products, without any preservatives or additives.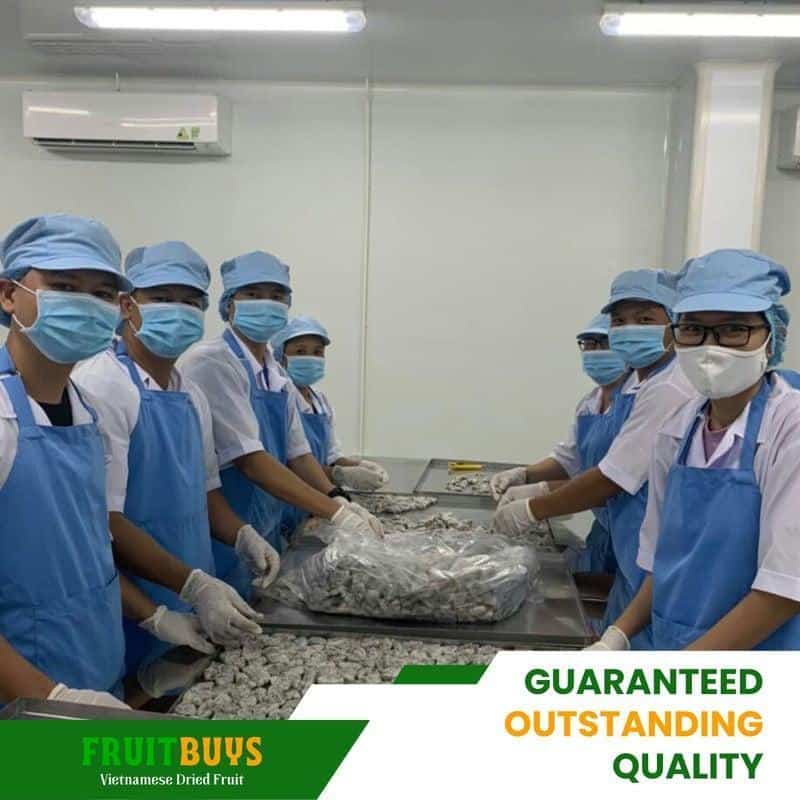 Our products are:
HACCP/ISO/CO/Phytosanitary/Test report/Nutritional ingredients certification.
Non-GMO, no sugar, no sulfur and no preservatives.
No harmful substances such as additives, chemicals, metals, or sulfites.
You can rest assured that our products are safe, natural, and healthy for you and your customers.
Discover the nutritional richness – premium quality of freeze-dried dragon fruit with FruitBuys Vietnam
IV. Versatile & convenient snack
The fourth step in the journey is to enjoy versatile and convenient snacks with our products. You can enjoy our products as is or mix them with other foods such as yogurt, cereal, rolled oats, smoothie, salad, or dessert. You can also use them as baking ingredients, cooking, or make jam or sauce.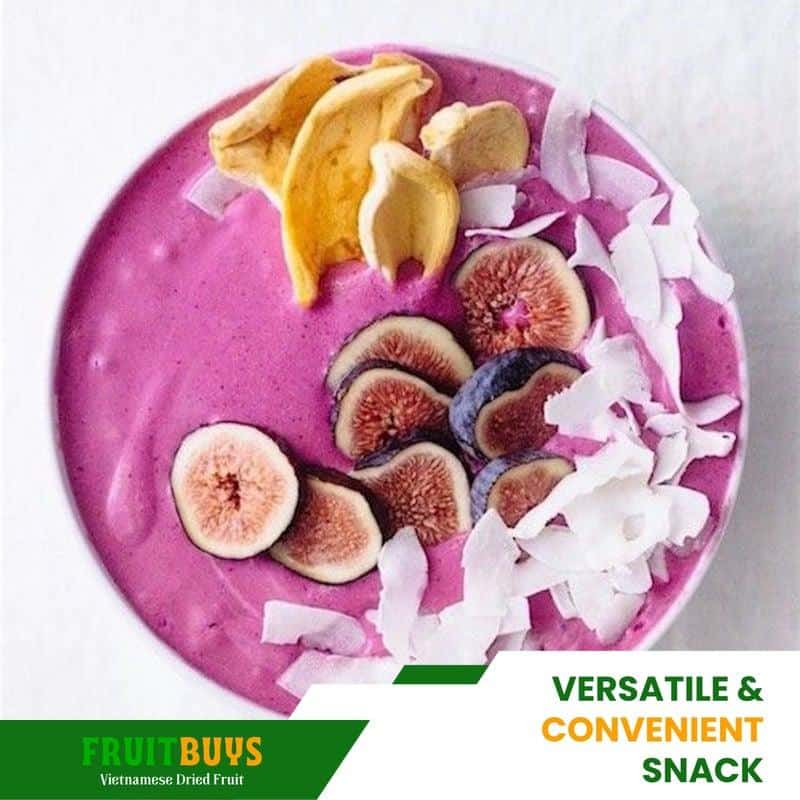 The advantages of our products are:
Ideal for wholesale, retail, and import companies serving health-conscious consumers looking for sugar-free and low-sugar snack options.
Suitable for vegetarians, gluten-free, bland, pandemic, and diet for diabetics.
Can be used alone or added to many different dishes.
Our products are not only delicious but also versatile for every occasion.
Enhance your culinary creativity with premium freeze-dried dragon fruit from FruitBuys Vietnam
V. Customizable Solutions & Flexible Collaboration
The final step in the journey is to benefit from our customizable solutions and flexible collaboration capabilities. We understand that different customers have different needs and preferences, so we offer a variety of packaging options and payment terms to suit your requirements.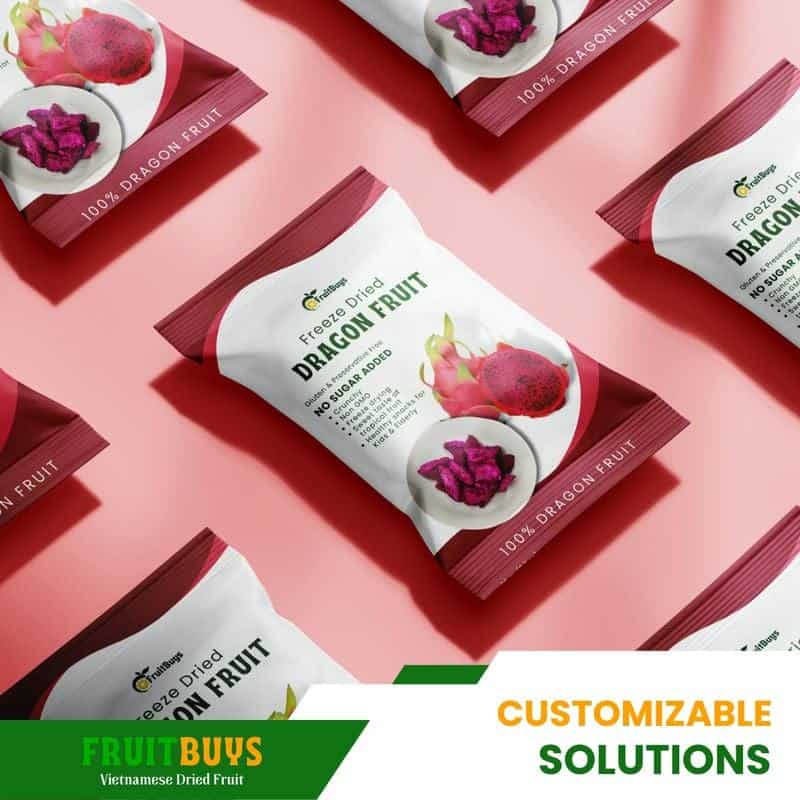 We also welcome any questions or requests you may have regarding our products or services. We are happy to assist you if you have any questions or concerns. We are also open to any suggestions or feedback you may have to improve our products or services. We consider your satisfaction and trust as top priority.
Process Importing Dried Fruits of Vietnam –  A Comprehensive Guide
VI. Reliable supply and diverse product line
The fifth step in this journey is to rely on our reliable supply chain and diverse product line. We have 7 years of experience in the industry and have established strong relationships with suppliers, partner, and customers. We can deliver our products to any destination in the world with speed and efficiency.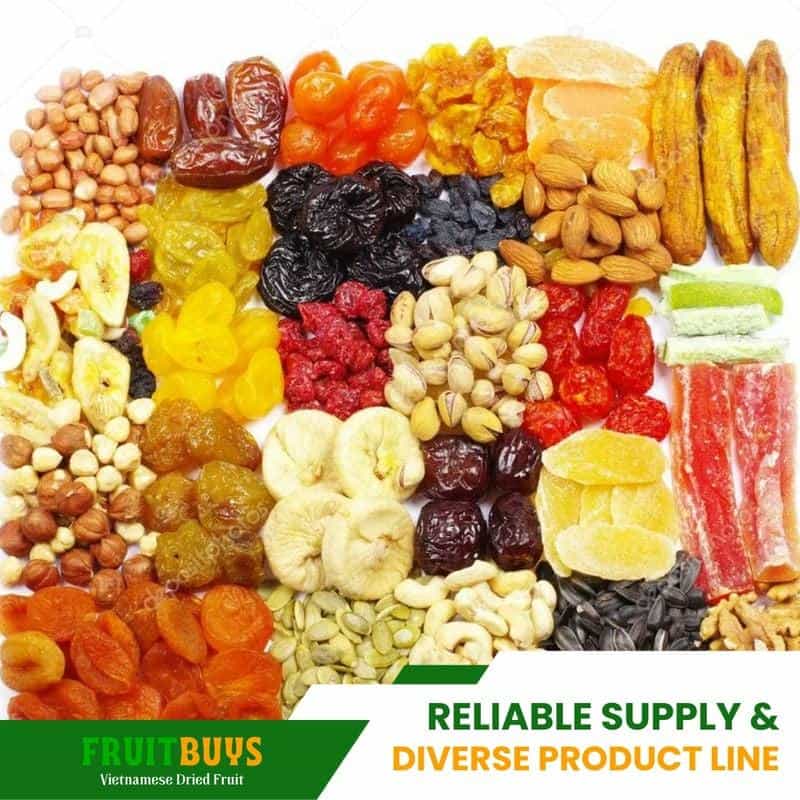 We also provide many natural tropical fruit lines from Vietnam such as: Banana, Dragon fruit, Durian, Jackfruit, Mango, Papaya, Passion fruit, Pineapple, Sapodilla, Strawberries, Soursop, Rambutan, Avocado, Cashew nuts, Sweet Potato, Lotus, Taro, and more. We also offer dried fruit, chips and other vegan snacks that are equally delicious, healthy and convenient.
You can explore our product range and discover new flavors and textures.
Discover New Products
VII. Conclusion
As you can see, the journey from dragon fruit to premium product is a journey of quality and excellence. We at FruitBuys Vietnam are committed to providing you with the best products and services possible. We provide you:
Quality from the source with meticulousness in selecting and growing dragon fruit trees.
Outstanding nutrition with advanced processing technology helps preserve the natural properties of fruit.
Ensure outstanding quality with strict quality testing and certifications that ensure the safety and health of the products.
Versatile, convenient snacking with products suitable for all occasions and diets.
Reliable supply and diverse product line with products that deliver speed and efficiency.
Flexible collaboration and customizable solutions with products that meet your diverse needs.
What are you waiting for? Order products from FruitBuys Vietnam today and enjoy the essence of quality!
Contact us at WhatsApp at +84 919 739 589 or email us at support@fruitbuys.com. We are happy to assist you with any inquiries or requests you may have.
FAQs
How long does dragon fruit take to grow?
Dragon fruit takes about 6 to 8 months to grow from a cutting to a mature plant that can produce fruits. The fruits take about 30 to 50 days to ripen after flowering.
How do you grow dragon fruit?
Dragon fruit is grown from cuttings or seeds. Cuttings are preferred as they are easier and faster to grow. Dragon fruit needs a well-drained soil, full sun, and a trellis or support for climbing. Dragon fruit also needs regular watering and fertilizing.
Is dragon fruit a cactus or succulent?
Dragon fruit is a type of cactus that belongs to the genus Hylocereus. It has succulent stems that store water and can grow up to 20 feet long. It has large, fragrant flowers that bloom at night and produce edible fruits.
How do you take care of a dragon fruit plant?
To take care of a dragon fruit plant, you need to provide it with adequate water, fertilizer, sunlight, and pruning. You should water it once or twice a week, depending on the weather and soil moisture. You should fertilize it every month during the growing season with a balanced fertilizer. You should expose it to at least 6 hours of sunlight per day. You should prune it regularly to remove dead or diseased branches and to promote fruiting.
#DragonFruitPlant, #FruitBuysVietnam, #PremiumProducts, #FreezeDriedFruits, #DragonFruit, #Pitaya, #QualityAssurance, #Cultivation, #Nutritio.