Are you looking for a healthy, delicious and convenient snack that can give you exotic flavors and loads of nutritional benefits? Do you want to experience the natural goodness of one of the most unique fruits in the world? If so, you should try freeze-dried dragon fruit from FruitBuys Vietnam!
FruitBuys Vietnam is a professional wholesale supplier and exporter of premium dried fruits, freeze dried fruits, healthy snacks, exotic fruits, chips, vegan snacks , sugar-free snacks and low-sugar snacks with advanced drying technologies such as: Air Drying (AD), Freeze drying (FD), Vacuum frying (VF). We focus on quality assurance, wholesale prices, high profit margins and reliable logistics & supply services with 7 years of experience.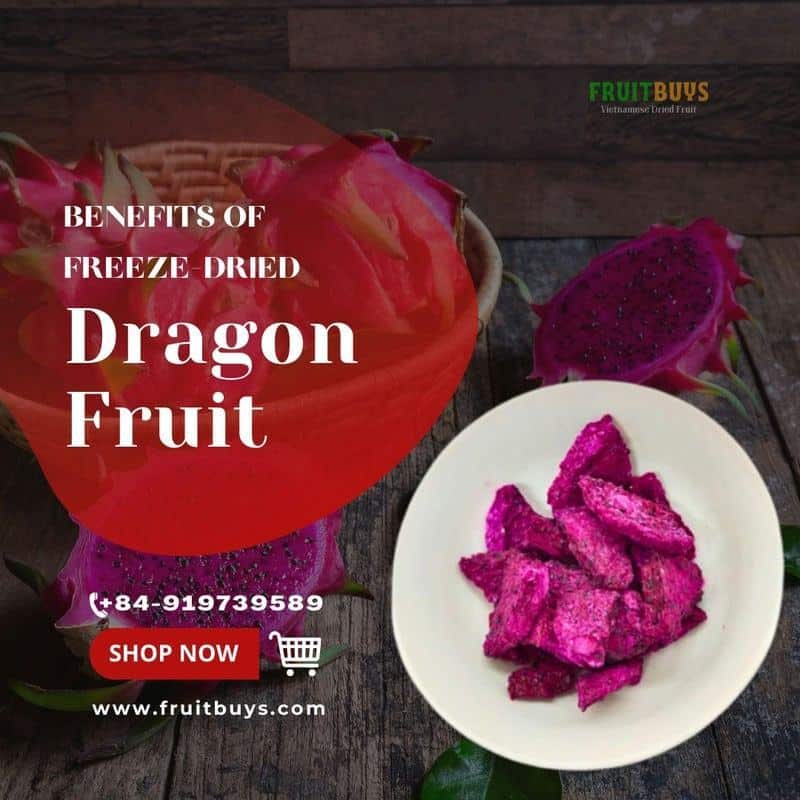 One of our featured products is freeze-dried dragon fruit (also known as Pitaya), a tropical fruit originating from Vietnam, with a vibrant pink skin and white or red flesh with small black seeds. Dragon fruit not only has an attractive appearance but is also packed with antioxidants, vitamins, minerals and fiber that can benefit your health in many ways.
Today, we will show you the countless benefits of freeze-dried dragon fruit and why you should choose FruitBuys Vietnam as your trusted partner to get high quality products.
Benefits of freeze-dried dragon fruit – Nutrition powerhouse
One of the main benefits of freeze-dried dragon fruit is its rich nutritional profile. Freeze-dried dragon fruit contains:
High fiber intake can aid digestion and reduce cholesterol levels.
Powerful antioxidants can protect your cells from free radical damage and inflammation.
Low calories and healthy fats can help you maintain a healthy weight and support heart health.
A rich source of vitamins and minerals such as vitamin C, vitamin E, iron, calcium, magnesium, potassium and phosphorus that can boost the immune system, skin health, bone health and energy levels.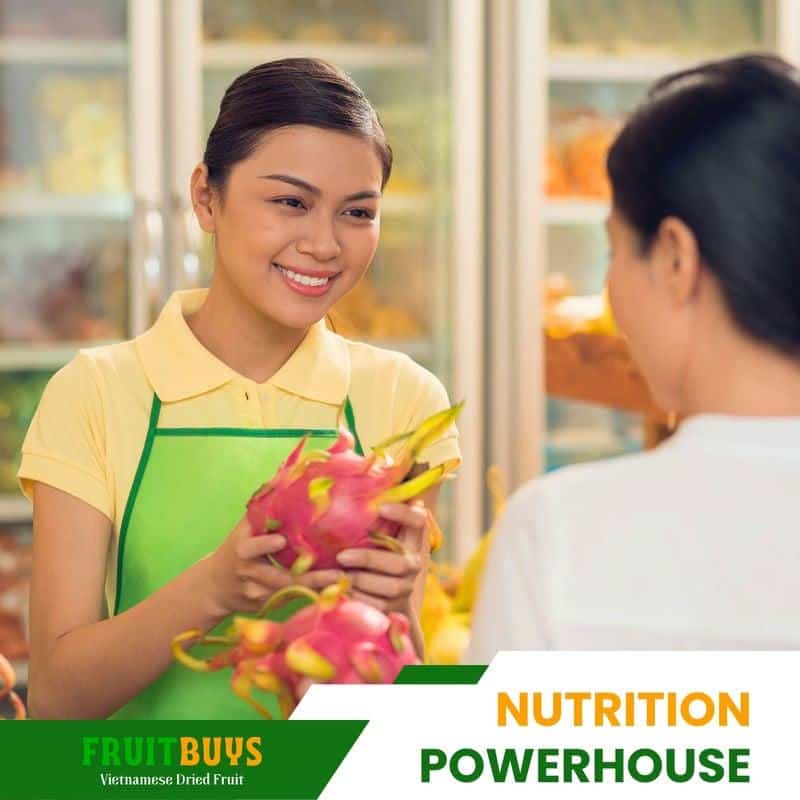 By adding freeze-dried dragon fruit to your diet, you can enjoy a balanced and nutritious snack that will help improve your health.
Guaranteed premium quality
Another benefit of freeze-dried dragon fruit is the guarantee of high quality. At FruitBuys Vietnam, we take quality assurance very seriously. We only source dragon fruit from certified VietGAP farms in Vietnam using natural and sustainable farming methods. We also adhere to strict hygiene and safety standards throughout the production process, from harvesting to packaging.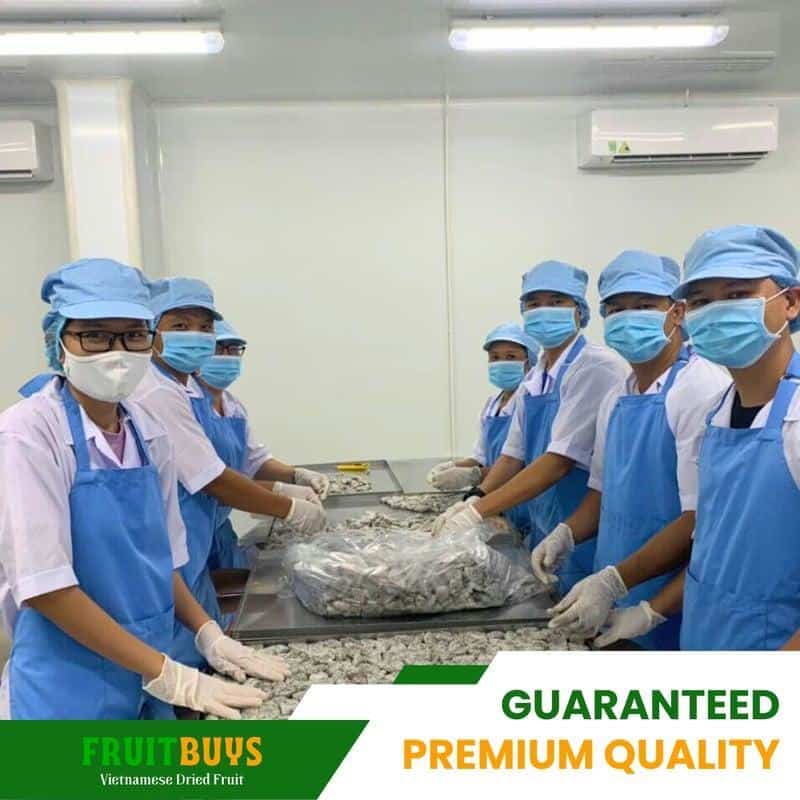 Our freeze-dried dragon fruit products are:
HACCP/ISO/CO/Phytosanitary/Test report/Nutritional ingredients certification.
Non-GMO, no sugar, no sulfur and no preservatives.
No toxic substances such as additives, chemicals, metals or sulfites.
You can rest assured that our freeze-dried dragon fruit products are safe, natural and good for the health of you and your customers.
Advanced freeze-drying process
The third benefit of freeze-dried dragon fruit is the advanced freeze-drying process. Freeze-drying is a process that removes water from food by freezing it and then applying vacuum to sublimate the ice crystals into vapor. In this way, food retains its original shape, texture, color and flavor without losing nutritional value.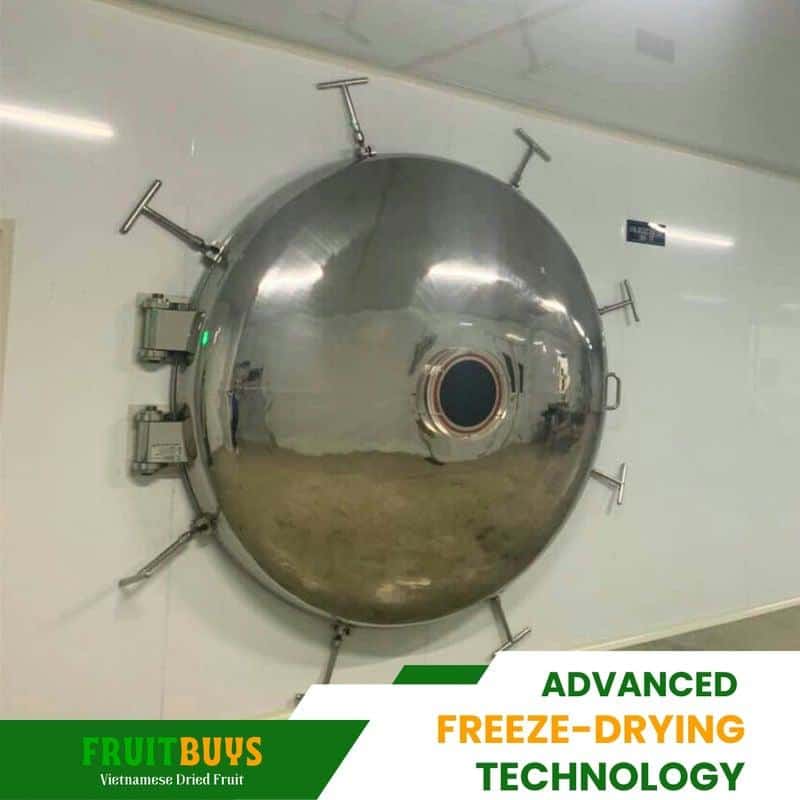 The benefits of our freeze-drying process are:
Maintains 95% of food color, flavor and nutrients.
Prevent oxidation and nutrient degradation.
Suitable for many types of fruits, vegetables, and tubers that are difficult to dry by other methods.
Long-term use up to 24 months without refrigeration or special storage conditions.
Our freeze-drying process ensures that our freeze-dried dragon fruit products are as crispy, delicious and nutritious as fresh dragon fruit.
Versatile snack for every occasion
The fourth benefit of freeze-dried dragon fruit is its versatility as a snack for any occasion. You can enjoy it as is or mixed with other foods like yogurt, cereal, granola, smoothies, salads or desserts. You can also use it as an ingredient to make cakes, cooking, or making jam or sauce.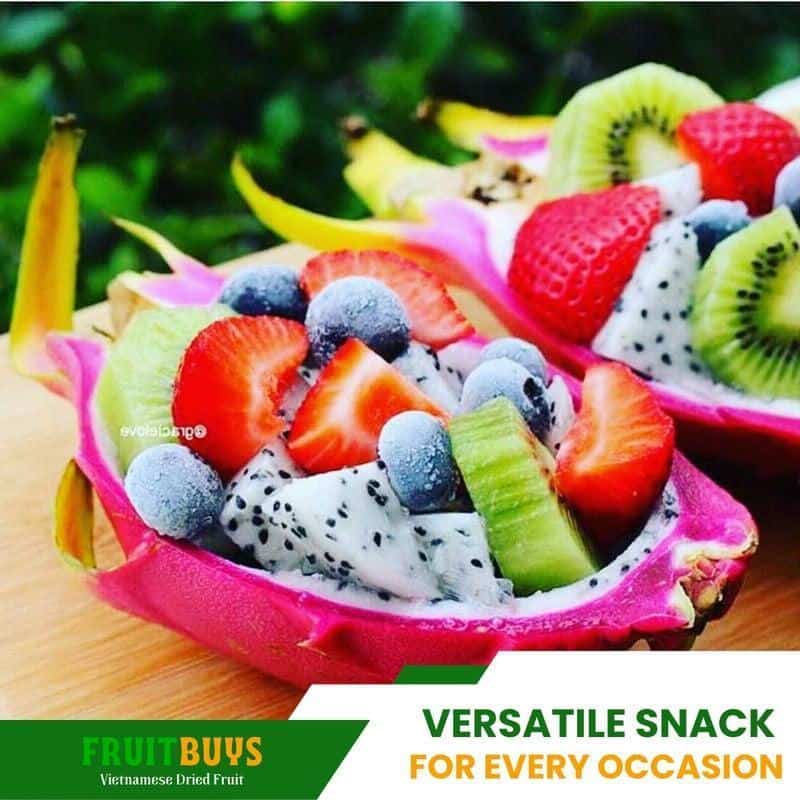 The advantages of our freeze-dried dragon fruit products are:
Ideal for wholesale, retail and import companies serving health-conscious consumers looking for sugar-free and low-sugar snack options.
Suitable for vegetarians, gluten-free, paleo, fluid, and diet for diabetics.
Can be used alone or added to many different dishes.
Our freeze-dried dragon fruit products are not only delicious but also versatile for every occasion.
Reliable Supply & Logistics
A fifth benefit of freeze-dried dragon fruit is its reliable supply and logistics. We have 7 years of experience in the industry and we have established strong relationships with our suppliers, partners, and customers. We can deliver our products to any destination in the world with speed and efficiency.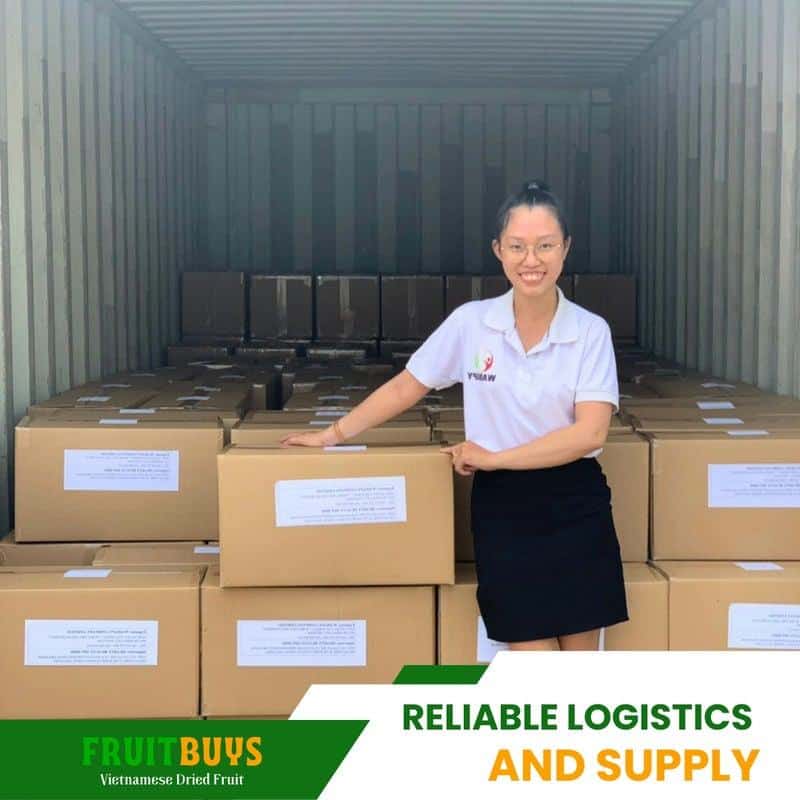 Our supply and logistics advantages are:
Various shipping methods including FOB (Free on Board), CIF (Cost Insurance Freight), DDP (Delivered Duty Paid).
Delivery to Amazon FBA (Fulfillment by Amazon) directly.
Flexible order quantity from 100 kg to 20 tons per shipment.
You can trust us to deliver your order on time and in good condition.
Customizable Packaging & Flexible Payment
A sixth benefit of freeze-dried dragon fruit is its customizable packaging and flexible payment. We understand that different customers have different needs and preferences, so we offer various packaging options and payment terms to suit your requirements.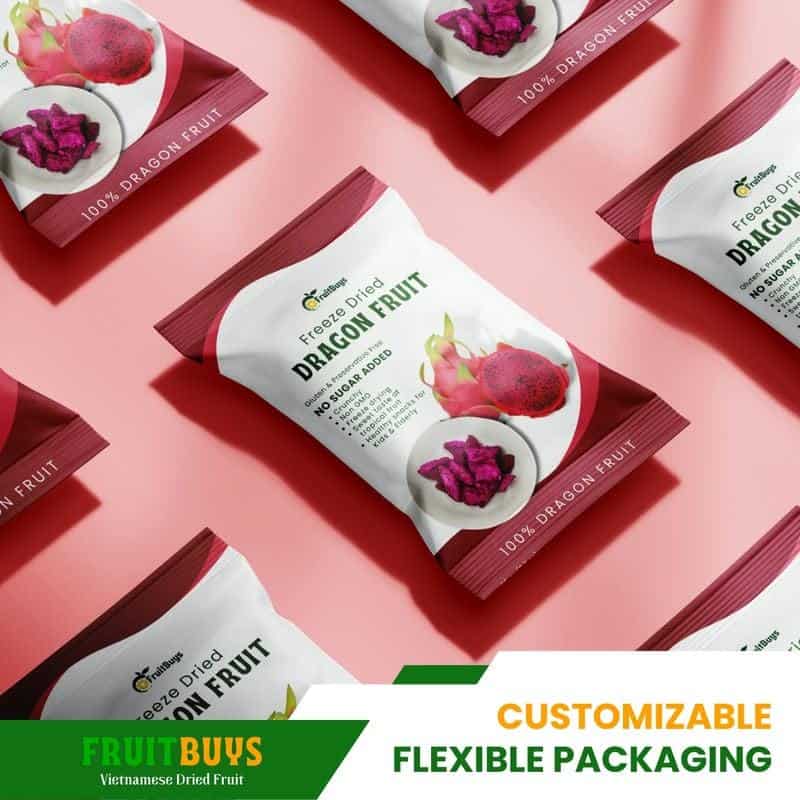 Our packaging and payment options are:
Retail and bulk packaging available, from 10 g to 10 kg per bag or box.
Customized labels, logos, designs, and barcodes available upon request.
T/T 40% production deposit, the rest 60% paid before delivery or copy B/L or sight L/C.
You can choose the packaging and payment option that works best for you.
Discover New Products
Conclusion
As you can see, freeze-dried dragon fruit has many benefits that make it a great snack option for you. It is:
Nutritious and delicious.
Premium quality and safe.
Processed with advanced technology.
Versatile and convenient¹⁶[16].
Delivered with reliable logistics.
Packaged and paid with customizable options.
What are you waiting for? Order your freeze-dried dragon fruit products from FruitBuys Vietnam today and discover the nutritional richness and premium quality of this amazing fruit!
Contact us at WhatsApp at +84 919 739 589 or email us at support@fruitbuys.com. We are happy to assist you with any inquiries or requests you may have.
FAQs
Is freeze dried dragon fruit healthy?
Yes, freeze dried dragon fruit is healthy. It retains most of the nutrients, antioxidants, and fiber of fresh dragon fruit, while being low in calories and fat. It can help support your immune system, digestion, and weight loss goals.
What are the health benefits of freeze dried dragon fruit?
Some of the health benefits of freeze dried dragon fruit are:

It boosts your vitamin C intake, which supports your immune system and skin health.
It provides dietary fiber, which aids in digestion and lowers cholesterol levels.
It contains antioxidants, which protect your cells from oxidative stress and inflammation.
It offers essential minerals such as iron, calcium, magnesium, and phosphorus, which contribute to your overall well-being.
Can you freeze dry dragon fruit?
Yes, you can freeze dry dragon fruit using a special process called freeze-drying. Freeze-drying is a low-temperature dehydration process that freezes the fruit and then removes the water by sublimation under low pressure⁶[6]⁷[7]. This preserves the shape, color, flavor, and nutritional value of the fruit.
How healthy is frozen dragon fruit?
Frozen dragon fruit is also healthy, but not as healthy as freeze-dried dragon fruit. Frozen dragon fruit may lose some of its nutrients and antioxidants due to the freezing process. It may also contain added sugar or preservatives to extend its shelf life. Freeze-dried dragon fruit is more natural, pure, and wholesome than frozen dragon fruit.
#BenefitsOfFreezeDriedDragonFruit #FruitBuysVietnam #FreezeDriedFruits #DragonFruitSnacks #HealthySnacks #NutritiousSnacks #ExoticFruits #TropicalFruits #FreezeDryingTechnology #QualityAssurance