If you are looking for a delicious and healthy snack that will spice up your taste buds, you should try Dried Chili Pineapple from Vietnam. This product is made from fresh and juicy pineapples that are grown in the tropical climate of Vietnam, and then dried using advanced technology that preserves their flavor and nutrients. The dried pineapple slices are then coated with chili spices that add a kick of heat and zest to the sweet fruit. Here are some reasons why you should choose Dried Chili Pineapple from Vietnam as your next snack.
Why Should You Choose Dried Chili Pineapple from Vietnam
I. High-Quality Ingredients
The quality of the ingredients is the key to making a good product. That is why FruitBuys Vietnam only uses the best pineapples that are harvested at their peak ripeness and freshness. The pineapples are carefully selected and washed before being sliced and dried. The chili spices are also natural and high-quality, adding a layer of flavor and aroma to the dried pineapple.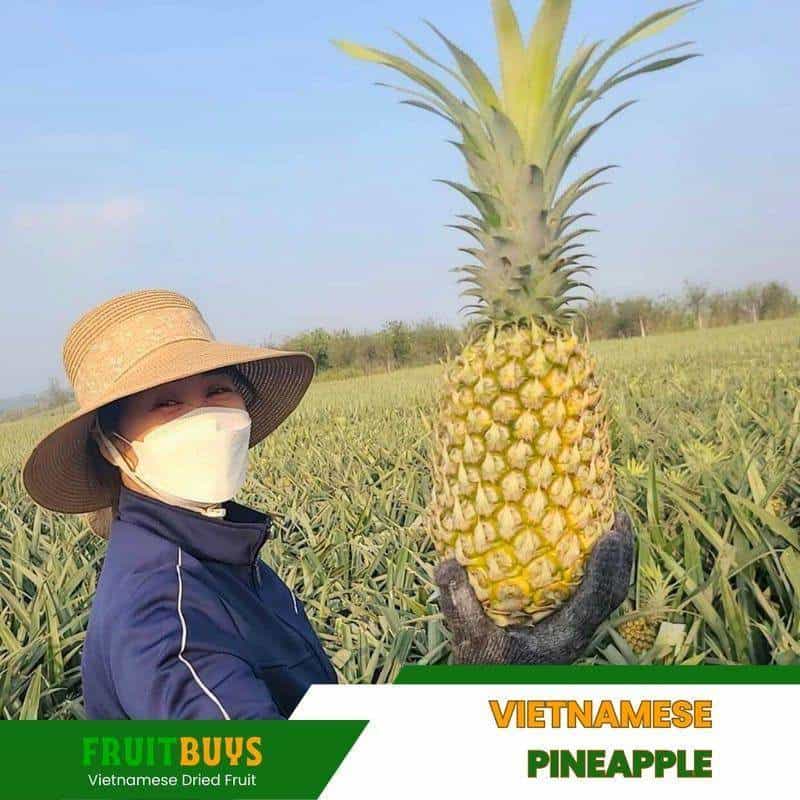 II. Advanced Drying Technology
The drying technology used for making Dried Chili Pineapple is one of the most advanced in the world. FruitBuys Vietnam uses two methods: Air Drying (AD) and Freeze Drying (FD). Both methods use low temperature and low pressure to remove the moisture from the pineapple slices, while retaining their natural color, shape, texture, and taste.
The AD method uses hot air to dry the pineapple slices, while the FD method uses a vacuum chamber to freeze and sublimate the water from the pineapple slices. Both methods ensure that the dried pineapple has a long shelf life and does not lose its nutritional value.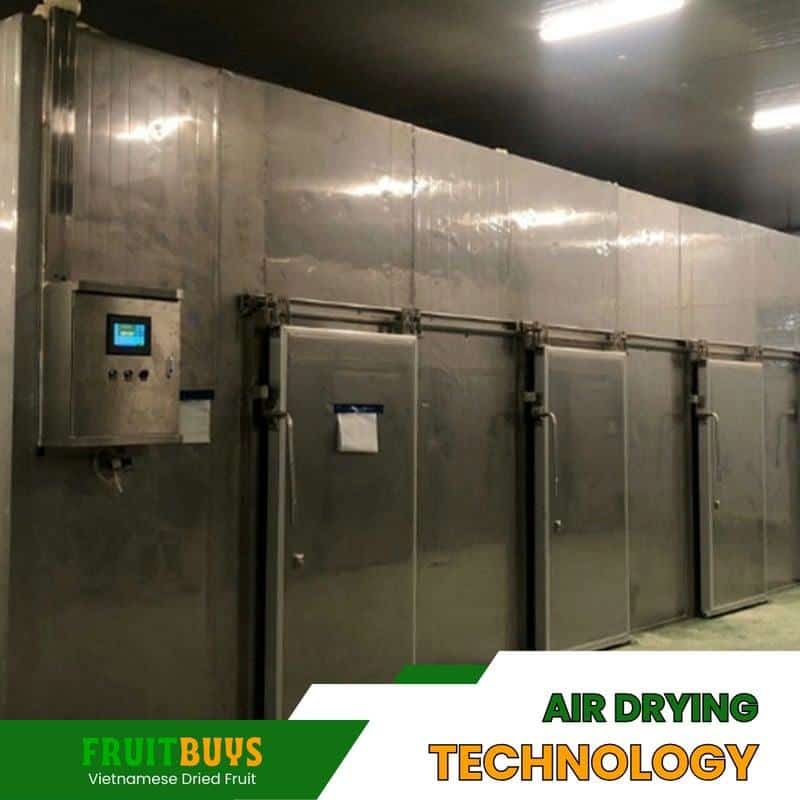 III. Unique Flavor
One of the most appealing features of Dried Chili Pineapple is its unique flavor combination. The sweet and tangy taste of the pineapple is complemented by the spicy and savory taste of the chili spices. The result is a flavorful and delightful snack that will satisfy your cravings for something sweet and spicy at the same time. You will love the contrast between the soft and chewy texture of the dried pineapple and the crunchy and crispy texture of the chili coating.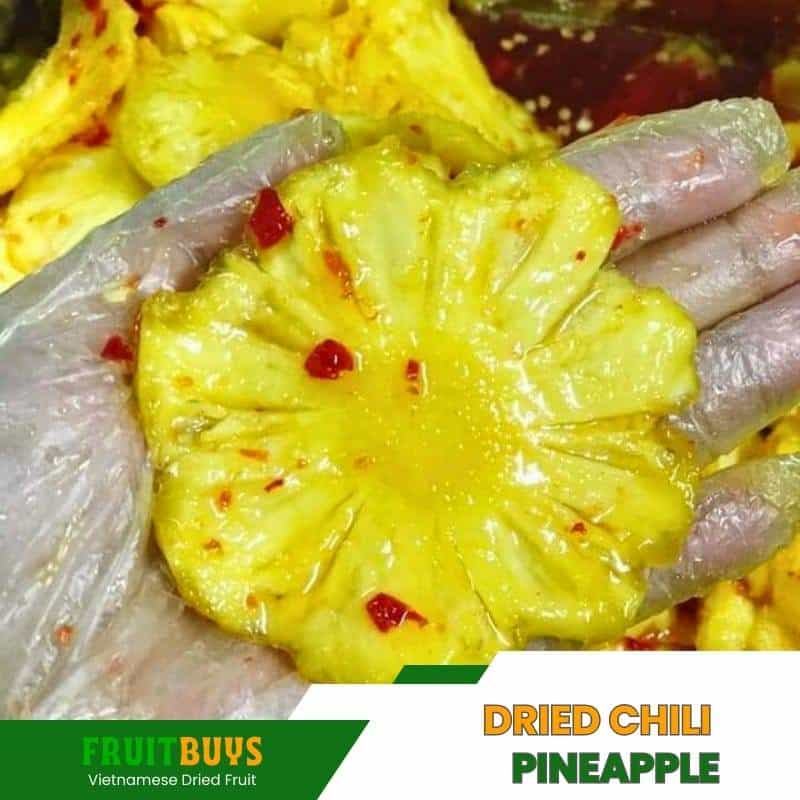 IV. Health Benefits
Not only is Dried Chili Pineapple tasty, but it is also good for your health. This snack is low in calories, fat, and sodium, but high in fiber, vitamins, and minerals. Pineapple is rich in vitamin C, which boosts your immune system and protects your cells from damage. It also contains bromelain, an enzyme that helps with digestion and inflammation.
Chili is rich in capsaicin, which stimulates your metabolism and helps with weight loss. It also has anti-inflammatory, antibacterial, and antioxidant properties. Together, pineapple and chili can help you improve your health and wellness.
What Are The Benefits Of Dried Chili Pineapple (Spicy Snack)
V. Versatility
Another reason to choose Dried Chili Pineapple is its versatility. You can enjoy this snack on its own, or use it for various culinary applications. You can add it to your salads, yogurt, granola, oatmeal, or smoothies for a burst of flavor and nutrition. You can also use it as a topping for your ice cream, cakes, pies, or cookies for a sweet and spicy treat. You can even use it as an ingredient for your sauces, marinades, or dips for a tropical twist.
Spicy Dried Chili Pineapple Recipes
VI. All-Natural and Unsulfured
You can rest assured that Dried Chili Pineapple is all-natural and unsulfured. This means that there are no added sugar or preservatives in this product. The sweetness of the dried pineapple comes from its natural sugars, while the spiciness of the chili comes from its natural oils. This product is also vegan and gluten-free, making it suitable for people with dietary restrictions or preferences.
Is Spicy Dried Chili Pineapple A Healthy Snack
VII. Long Shelf Life
One of the advantages of Dried Chili Pineapple is its long shelf life. This product can last for 6 to 9 months if stored in a cool and dry place away from direct sunlight. This makes it a convenient and lasting snack that you can enjoy anytime and anywhere. You can also stock up on this product without worrying about it going bad or losing its quality.
VIII. Why Choose Spicy-Dried Chili Pineapple
As you can see, there are many reasons to choose Spicy-Dried Chili Pineapple as your next snack. This product offers quality and freshness, flavorful and nutritious benefits, convenience and versatility. Whether you want to indulge yourself or impress your guests, this product will not disappoint you.
How To Get The Best Wholesale Price Dried Chili Pineapple
IX. FruitBuys Vietnam's Commitment
Ready to experience the deliciousness of premium dried fruits and snacks? Look no further than FruitBuys Vietnam! With 7 years of expertise in supplying and exporting high-quality products, we are committed to meeting your expectations and needs. Whether you're an individual customer, wholesaler, retailer, or import company, we have the experience and capability to serve you. Our focus on quality assurance, wholesale prices, high margins, and reliable logistics and supply sets us apart from the rest.
Discover a wide range of natural tropical fruit lines from Vietnam – from banana to durian, mango to passion fruit, and everything in between. We offer various drying technologies like air drying (AD), freeze drying (FD), and vacuum frying (VF) to cater to your preferences and demands. Not only do we provide exceptional products, but we also pride ourselves on excellent customer service and support. Reach out to us via WhatsApp at +84 919 739 589 or email us at support@fruitbuys.com to connect with our friendly team.
Don't miss out on the opportunity to taste the best that Vietnam has to offer. Choose FruitBuys Vietnam as your go-to supplier of premium dried fruits and snacks. We can't wait to serve you with our finest products. Place your order today!
Discover New Products
FAQs
What is dried chili pineapple?
Dried chili pineapple is a snack made from fresh pineapple slices that are dried and coated with chili spices. It has a sweet, spicy, and tangy flavor and a soft and chewy texture.
How is dried chili pineapple made?
Dried chili pineapple is made by using a natural air-drying process that preserves the flavor and nutrients of the fresh fruit. The dried pineapple slices are then seasoned with a blend of cayenne pepper, paprika, cumin, and salt.
What are the benefits of dried chili pineapple?
Dried chili pineapple is a healthy snack that is low in calories, fat, and sodium, but high in fiber, vitamins, minerals, antioxidants, and enzymes. It can boost your immune system, metabolism, digestion, and inflammation. It can also satisfy your sweet and spicy cravings.
How can I enjoy dried chili pineapple?
You can enjoy dried chili pineapple as a stand-alone snack or use it for various culinary applications. You can add it to your salads, yogurt, granola, oatmeal, smoothies, ice cream, cakes, pies, cookies, sauces, marinades, or dips.
Where can I buy dried chili pineapple?
#driedchilipineapple, #spicysnacks, #fruitbuysvietnam, #driedfruit, #pineapplelove, #exoticfruits, #healthysnacks, #vegansnacks, #tropicalsnacks, #sweetandspicy.