Is freeze dried mango healthy?
Freeze-dried mango are one of many fruits that have been freeze-dried fruits by FruitBuys to preserve food for more than 18 months by removing water, leaving only nutrients and fibre. Freeze-drying preserves all vitamins, minerals and fiber enzymes.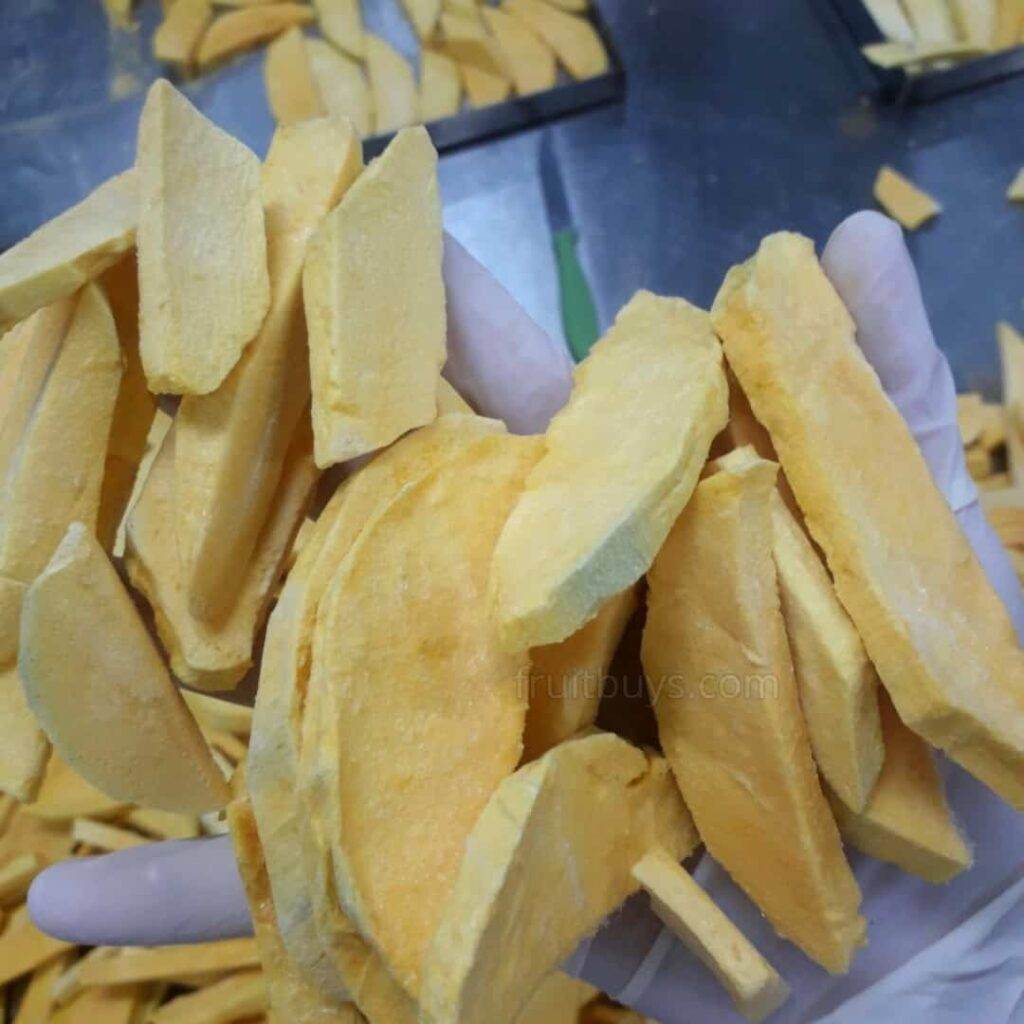 Freeze-dried mango contains a lot of nutrients such as vitamins A, B1, B6, C, E and minerals like biotin, carotene, pantoteninc acid, niacin, folacin, calcium, iron, phosphorus, sodium, copper, magnesium, zinc, selenium. Especially ripe mango is the highest source of vitamins A and C among fruits that bring many benefits to human health.
Improves Vision: Mangoes are an excellent source of vitamin A, which boosts the immune system and keeps your eyesight sharp.
Good for Diabetics: Vitamin C helps stabilize blood sugar levels, which can help prevent diabetes complications like kidney damage and heart disease.
Protects the heart: Mango contains a large amount of potassium which helps to lower blood pressure and protect the arteries from blockage.
Digestive System Support: Mangoes contain fiber that improves digestion by preventing constipation and diarrhea. They also help lower blood cholesterol levels by reducing fat absorption into the body's tissues. This can help you control your weight as you eat less food due to its high fiber content!
Improves Memory: Mangoes also contain vitamin B6 which improves recall by converting protein into serotonin, which is responsible for mood regulation.
Mangoes have been shown to have many benefits to human health, including improving vision and memory. Freeze-dried mango is an excellent source of many nutrients such as vitamins A, B6, C, E, folacin, calcium, iron and other essential minerals; These nutrients help support healthy bones, teeth and gums. It also contains biotin which improves hair growth among other things!
Freeze-dried mangoes are a great way to supply your daily vitamin intake. This is also a delicious way to add some variety to your diet! And did we mention it's low in calories? You can even enjoy this snack while watching your favorite TV show or while playing video games with friends!
How to freeze drying mangoes
Mango is a delicious and nutritious fruit that can be enjoyed fresh, juiced or smoothie. They can also be used in cooking, as a main ingredient or as a flavor enhancer, however, fresh mangoes can be difficult to purchase outside of the mango season. That's where freeze-drying comes in. Freeze-drying is a process that removes water content from foods without affecting taste, texture or nutritional value.
Freeze-dried mangoes can be stored for up to 18 months, so they are a great way to enjoy the taste of mangoes year-round. However, it is not easy to freeze dried mango to export quality. Today, FruitBuys will share how to produce freeze dried mango!
Step 1: Preliminarily process, select fresh mango ingredients, ensure quality, remove unripe mangoes as required.
Step 2: Wash the mango before processing. After carefully selected mangoes are washed with clean water to remove dirt such as soil, microorganisms, chemicals remaining on the surface.
Step 3: The next step after washing is to peel the mango, peel the mango by hand to clean the skin, cut the mango into slices 3 – 5 mm thick.
Step 4: Freeze the mango, at this stage the temperature will be adjusted to -30 degrees Celsius for a period of 6-8 hours
Step 5: Freeze-dry. The ice crystals in the mango will solidify without going through the liquefaction stage in a vacuum environment. About 90% of the moisture in the mango is removed. The temperature is adjusted gradually. The moisture content in the raw material is about 1-5%,
Step 6: Pack and label. Freeze-dried mangoes are usually sized and packed in bags from 100g to 500g or as per customer's request.
FruitBuys is a leading supplier of freeze-dried fruit, with a wide range of products available including mangoes. For more information about our products, visit our website or contact us today.
What does freeze-dried mango taste like?
Have you ever wondered what freeze-dried mango tastes like?
If you are not from the tropics, you may not be familiar with this fruit. Mango is a delicious fruit that is loved by many people. However, mango is a fruit that contains a lot of water, is soft and difficult to preserve for a long time.
In order to increase the shelf life of mango and help diversify products, mango is processed into many products such as: dried mango, mango tea, mango jam, crispy mango chips,…
Mangoes are freeze-dried to maintain product quality. Among the above products, dried mango is the most advanced product that is interested and loved by many people because of its advantages such as:
Beautiful colors
Sweet flavour
The shape remains intact after the drying process
When you eat it, you will have a crunchy feeling in your mouth.
Especially, the nutritional content in freeze-dried mangoes is retained over 90% compared to fresh mangoes.
When you try our freeze-dried mangoes, you will be amazed by their sweet taste and crunchy texture. If you are looking for a healthy, delicious and nutritious snack, look no further than FruitBuys Vietnam's dried mango.
If you are curious to know what frozen mango tastes like, do not hesitate to try FruitBuys Vietnam products. We are sure you will be satisfied with the quality and taste of our products.
Is freeze-dried fruit unhealthy?
When it comes to eating healthy, one of the best things you can do is incorporate more fruits and vegetables into your diet. And while fresh fruits and vegetables are always a great option, freeze-dried fruit is also a great option – especially for diabetics.
In a 2017 studyTrusted Source, researchers found a positive correlation between eating nuts and freeze-dried fruit and preventing type 2 diabetes. The American Diabetes Association (ADA) confirms that dried fruit can be a good choice for people with diabetes, but they should be aware that serving sizes can be small.
According to Medical News Today (USA), people with diabetes can eat a few fruits and vegetables every day, and freeze-dried fruit is a great choice because it has a content of about 30g.
Nutritionally, freeze-dried fruit is a good source of fiber, vitamins, minerals like potassium, iron, and antioxidants that contribute to health. Research from Spain published in the journal Nutrients concludes that antioxidants and phytochemicals in freeze-dried fruit can help diabetics reduce insulin resistance and prevent cellulitis.
So if you're looking for a healthy snack option that's also diabetes-friendly, get some freeze-dried fruit the next time you visit the store.
Dried fruit has a high nutrient content. One serving of dried fruit contains the same amount of nutrients as fresh fruit, but concentrated in a small package. By weight, dried fruit contains 3.5 times more fiber, vitamins and minerals than fresh fruit. Therefore, one serving can provide a large percentage of the daily intake of vitamins and minerals, such as folate.
Dried fruit is often high in fiber and is an excellent source of antioxidants, especially polyphenols. Polyphenol antioxidants have been linked to health benefits such as improved blood flow, better digestive health, reduced oxidative damage, and reduced risk of many diseases. With some exceptions, the vitamin C content can be significantly reduced when the fruit is dried.
FruitBuys offers a wide variety of dried fruit, perfect for snacking, adding to recipes or included in a healthy diet. All of our dried fruit is sulfur-free, which means it contains no added sulfur dioxide, a preservative that can be harmful to your health. We offer a wide range of dried fruits, including mango, jackfruit, pineapple, dragon fruit, durian, banana,…
When you're looking for a healthy snack that's also delicious, try FruitBuys freeze-dried fruit. Our dried fruit is a great source of fiber and antioxidants, and it's also low in calories. One serving of our dried fruit has only 100 calories, and it is a good source of vitamins A, C and E. Our dried fruit is also a good source of potassium and iron.
So if you are looking for a way to eat healthy and prevent type 2 diabetes, freeze-dried fruit is a great choice. And with FruitBuys Vietnam, you can get the best freeze-dried fruit. Contact us right away to get your questions answered quickly!
CONTACT US
Freeze Dried Mango
$0.69/ 20g (0.7 Ounces)
About this item
Looking for OEM supplier and wholesaler of freeze dried mango in Vietnam? Look no further than FruitBuys! We are the leading freeze-dried fruits manufacturer and supplier in Vietnam, specializing in freeze-dried fruit. Our freeze-dried fruit is the perfect choice for healthy snacks, dried fruits and even healthy weight loss!
Our freeze-dried fruit is made from fresh, organic fruit grown in Vietnam. We use special freeze drying technology to preserve the nutrients and flavors of the fruit, so you can enjoy the great taste and nutrition of fresh fruit without the hassle of preparing fruit. Fresh plants!
Our freeze-dried fruit is also sugar-free, gluten-free and preservative-free. They are a great choice for those following a sugar-free or gluten-free diet, or for those looking for a healthy snack option that's also vegan!
We offer a wide range of frozen dried fruits, including mango, pineapple, durian, dragon fruit, banana, jackfruit and many more! We also offer a variety of packaging options, so you can choose the perfect packaging for your needs!
We pride ourselves on providing fast shipping and great customers! If you have any questions, please feel free to contact us! We are always happy to help!
Specifications of Freeze Dried Mango
| | |
| --- | --- |
| Product name: | Freeze Dried Mango |
| Main material: | Fresh Mango |
| Cultivation type: | Common, Open Air |
| Processing method: | Freeze dried at -45°C to 25°C |
| Max. moisture (%): | 5 |
| Taste: | Natural sweetness, sour and crispy, full of mango original flavor |
| Color: | Yellow |
| Feature: | 100% freeze-dried fruit, nothing else added. Absolutely NO additives or preservatives, very good for children and the elderly. Delicious, natural, healthy fruit snack products made from real fruit and full of nutrition like fresh fruit |
| Certification: | HACCP/ISO/CO/Phytosanitary/Test report/ Nutrition facts |
| Use: | Provides nutrition, vitamins and other ingredients |
| Storage instructions: | Store at the cool and dry place |
| Shelf life: | 12 - 18 months |
| Country_of_origin: | Vietnam |
| Brand name: | FruitBuys |
| HS code: | 20089990 |
| Manufacturing_lead_time: | 20 - 25 days / 1 ton |
| Port of loading: | Cat Lai port |
| Container capacity: | 20"/290 ctns - 40"/600 ctns |
| Packaging: | 20g, 50g retail package, bulk package 3 kg |
| Box size: | 40x45x50 cm |
| Weight (kg/box): | 3 kg |
| Sample time: | 7 working days (depending on when we will confirm the exact delivery date) |
| Payment terms: | T/T 40% production deposit, the rest 60% to be paid before shipment or through L/C |
| Shipping method: | FOB, CIF,DDP( Can to Amazon FBA directly) both by sea and by air |
| MOQ: | 1kg |
| Additional: | OEM/ODM service is welcome |
Categories
You may also like…