Dried Papaya – Wholesale Dried Fruit Snacks for Healthy Snacking and Weight Loss
Papaya is a tropical fruit native to the Americas and is known for its sweet, slightly musky taste and soft pulp. It is rich in nutrients, including vitamin C, vitamin A, and potassium, and is also a good source of fiber. Dried papaya helps preserve these health benefits, allowing you to enjoy the nutritional benefits of this fruit at your convenience even when it's out of season.
Made with fresh papaya, dried papaya is chewy, sweet, and full of flavor – a great snack and convenient to pack and store. You can enjoy dried papaya as a healthy snack or use it as an ingredient in many dishes.
In addition to taste and nutrition, dried papaya adds flavor and texture to dishes and can be used as a natural sweetener in recipes. It can also be used to make smoothies, cakes, salads, and other delicious dishes. This is a great snack for kids or adults and can be served as a snack for special occasions or an everyday meal.
FruitBuys Vietnam is a reputable and reliable supplier of dried fruit thanks to its high quality and freshness. Our products are preservative-free, sulfur-free, and GMO-free. Plus, it has a shelf life of 9-12 months, allowing you to enjoy a healthy snack or ingredient all year round. We offer fast shipping, great taste, and no preservatives, so you can be sure that you will receive the best quality product.
Whether you are a retail investor, start-up, fruit company, processing plant, Amazon business, online business, fast food restaurant, vegan restaurant, halal restaurant, or supply store If you want to supply food for restaurants, buffet restaurants, or resorts, the FruitBuys Vietnam line of dried fruit is the perfect choice for you.
We offer safe and secure transactions and free samples, as well as efficient customs clearance processes. With our products, you can enjoy great taste, vegan snacks, and gluten-free and preservative-free snacks, all with high-profit margins.
So, if you are looking for a healthy snack or ingredient for your dishes, be sure to check out FruitBuys Vietnam's wide range of dried fruits, including dried banana, dried dragon fruit, dried pineapple, dried pineapple no sugar added, dried mango without sugar, dried mango slices, dried jackfruit, dried jackfruit no sugar, dried papaya, dried papaya without sugar, dried passion fruit, and more.
With wholesale prices and stable year-round availability of professional dried fruit exporter FruitBuys Vietnam, you can enjoy our fresh and top-quality dried fruit.
Are dried papayas good for you?
Dried papaya is a nutritious snack that is high in antioxidants and vitamins. One serving of dried papaya (about 28 grams) contains around 70 calories, 17 grams of carbohydrates, and 1 gram of protein. It is also an excellent source of vitamin C, with one serving providing over 100% of the daily recommended intake. Dried papaya is also a good source of vitamin A, potassium, and fiber.
In addition to its nutritional value, dried papaya has several potential health benefits when consumed as part of a balanced diet. Here are a few of the potential health benefits of consuming dried papaya:
Aids digestion: Papaya contains an enzyme called papain, which has been shown to aid digestion and reduce bloating. Drying papaya does not destroy this enzyme, so dry papaya can still provide these digestive benefits.
Supports immune function: Vitamin C is an important nutrient for supporting immune function, and dried papaya is a good source of this nutrient.
May have anti-inflammatory effects: Some research suggests that the antioxidants and other compounds found in papaya may have anti-inflammatory effects, which could potentially help reduce the risk of chronic diseases such as heart disease and cancer.
May help with weight loss: Dried papaya is low in calories and high in fiber, making it a good snack choice for those looking to lose weight. Its high fiber content may also help with weight loss by keeping you feeling full and satisfied.
It's important to note that while drying papaya can be a healthy snack or ingredient, it should be consumed in moderation as part of a balanced diet. It is also worth noting that the potential health benefits of dried papaya may vary depending on an individual's overall diet and lifestyle.
Learn more: Discover The Amazing Health Benefits Of Papaya For You 2023
How to make your own dried papaya
The production process of dried papaya at FruitBuys Vietnam includes the following basic steps:
Step 1: Select and classify the materials
To ensure the quality of the dried papaya is delicious and attractive, it is important to carefully select the raw materials. Ripe papayas should be chosen, and any crushed or damaged fruit should be avoided.
Step 2: Wash and peel the skin
After carefully selecting, the papayas are washed to remove dirt, sand, pesticide residues, and microorganisms. This ensures that the dried papaya products have the best hygiene and safety standards.
Depending on the intended use and production technology, the papaya can be cut into round or vertical slices, with a thickness of about 3-5 mm.
Step 4: Adjust the taste of the finished product
The papaya slices are soaked in a sugar solution at a rate of 3-5% to add a moderate sweetness to the dried papaya and improve the shelf life of the finished product.
The drying temperature of the papaya on the dryer is carefully controlled, ranging from 20 to 65 degrees Celsius, to preserve the flavor and color of the finished product.
The dried papaya is sorted by size and packed in bags ranging from 100 to 500 g, or according to customer requirements. Exported products are usually packed in larger sizes and weights, from 10 to 20 kg per bag.
Step 7: Store and transport the dried papaya
After being carefully packed, the dried papaya products are stored in a cool and dry place, away from direct sunlight and moisture. This ensures the best quality of the finished product. Depending on the storage conditions, dried papaya products can be stored for 6-12 months. When transported, the products are usually placed in refrigerated containers to maintain their quality during the transportation process.
Overall, the production process of dried papaya at FruitBuys Vietnam involves selecting and washing the raw materials, cutting and adjusting the taste of the papaya slices, drying the papaya to remove moisture, and finally packing and storing the finished product. By following these steps, FruitBuys Vietnam can produce high-quality dried papaya that is delicious, nutritious and has a long shelf life.
Dried Papaya Nutrion Facts
Calories: 310 kcal/100g – Calculate (including testing fat, carbohydrate, protein, and food composition)
Total fat: 1 g
Trans fat: Not Detected
Cholesterol: Not Detected
Sodium (Na): 180 mg/kg
Carbohydrate: 72 g
Total dietary fiber: 8 g
Total sugars (as glucose): 61 g
Total protein: 4 g
Vitamin D: Not Detected
Calcium (Ca): 65 mg/kg
Iron (Fe): 1.4 mg/kg
Potassium (K): 1424 mg/kg
Coliforms: Not Detected
Escherichia coli: Not Detected
Bacillus cereus: Not Detected
Clostridium perfringens: Not Detected
Total spores of yeasts and Moulds: Not Detected
Aflatoxin (sum of BI, B2, GI. G2): Not Detected
Aflatoxin B: Not Detected
Arsenic (As): Not Detected
Lead (Pb): Not Detected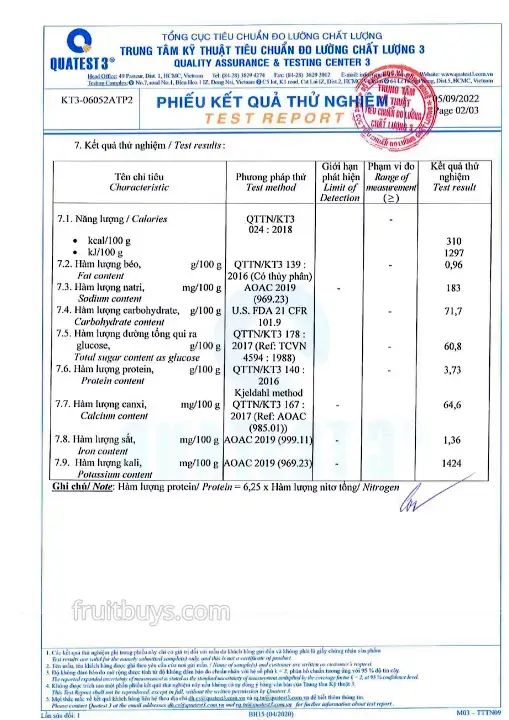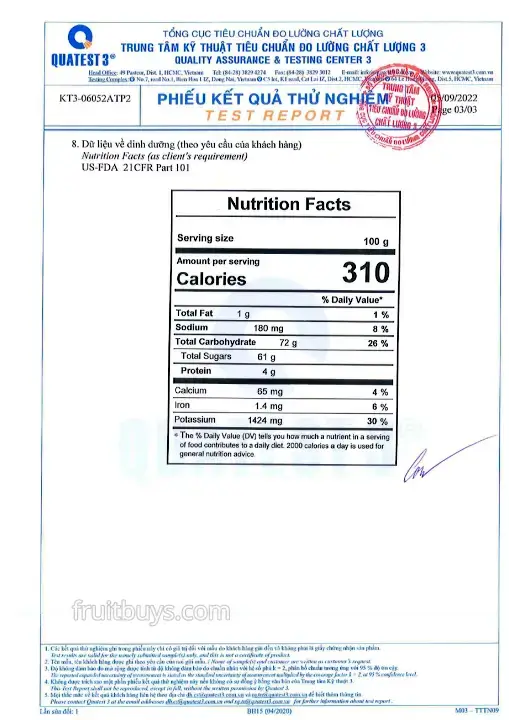 Summary
Whether you're looking for a healthy snack to enjoy on the go or an ingredient to add a unique flavor and texture to your dish, FruitBuys Vietnam's dried papaya is a treat. great selection. With its nutritional value, versatility, and great taste, dried papaya is a popular snack and ingredient loved by people of all ages. So buy FruitBuys Vietnam's flexible dried papaya today to add a nutritious and delicious addition to your meal!
CONTACT US
Dried Papaya Slices
$0,59/ 100g (3.53 Ounces)
About this item
With its sweet, chewy, and nutritious taste, dried papaya is increasingly becoming a popular snack and an ingredient in many cuisines around the world. FruitBuys Vietnam is a professional dried fruit OEM manufacturer and exporter, providing a stable source of dried papaya all year round at wholesale prices.
Dried papaya is a healthy snack or an ingredient used in many dishes. It is rich in vitamins and minerals such as vitamin C, vitamin A, and potassium, and is a good source of fiber. It can be used as a natural sweetener in recipes and adds flavor and texture to dishes.
FruitBuys Vietnam is the perfect choice for retail investors, start-ups, fruit companies, processing plants, Amazon businesses, online businesses, fast food restaurants, and restaurants. vegan, halal restaurant, restaurant catering, buffet, resort, etc.
Our dried papaya is sulfur-free, non-GMO, and sugar-free and has a shelf life of 9-12 months. We have fast shipping, delicious flavors, no preservatives, and a wide range of products, from dried bananas and dragon fruit to dried mangoes and dried passion fruit. Our mission is to provide the highest quality dried fruit products with fast response, customs handling, and import customs clearance assistance. We also offer free samples and guarantee safe and secure transactions.
Whether you need a healthy snack to enjoy on your own or an ingredient to add to your recipes, FruitBuys Vietnam is a great source of a variety of tropical fruits and fruit snacks. drying. With our high-margin products, low-cost business ideas, and wholesale prices, you can stock up on all your favorite snacks and dried fruit with ease.
Specifications of Dried Papaya Slices
| | |
| --- | --- |
| Product name: | Dried Papaya Slices |
| Main material: | Fresh Papaya |
| Cultivation type: | Common, Open Air |
| Processing method: | Heat dried at 45°C to 65°C |
| Max. moisture (%): | 15-17 |
| Taste: | Natural sweetness, soft and chewy, full of papaya original flavor |
| Color: | Orange, Red |
| Feature: | 95% ripe papaya and 5% sugar, nothing else added. Absolutely NO additives or preservatives, great for adults. Delicious, natural, healthy fruit snack products made from real fruit and full of nutrition like fresh fruit |
| Certification: | HACCP/ISO/CO/Phytosanitary/Test report/ Nutrition facts |
| Use: | Snacking, providing nutrition, vitamins and other ingredients |
| Storage instructions: | Store at the cool and dry place (23-27°C) |
| Shelf life: | 9 - 12 months |
| Country_of_origin: | Vietnam |
| Brand name: | FruitBuys |
| HS code: | 20089990 |
| Manufacturing_lead_time: | 20 - 25 days / 3 tons |
| Port of loading: | Cat Lai port |
| Container capacity: | 20ft/ 520 ctns - 40ft/ 1100 ctns |
| Packaging: | 100g, 500g retail package, bulk package 20kg |
| Box size: | 30x40x50 cm |
| Weight (kg/box): | 20 kg |
| Sample time: | 7 working days (depending on when we will confirm the exact delivery date) |
| Payment terms: | T/T 40% production deposit, the rest 60% to be paid before shipment or through L/C |
| Shipping method: | FOB, CIF,DDP( Can to Amazon FBA directly) both by sea and by air |
| MOQ: | 20 kg |
| Additional: | OEM/ODM service is welcome |
Categories
You may also like…
$

0,49

/ 100g (3.53 Ounces)