Is dried pineapple without sugar good for your health?
Dried pineapple no sugar added is a rich source of vitamins and minerals. It is available in many forms including dried fruit, juice, and freeze-dried pineapple. It is commonly used to treat colds and coughs. It also helps strengthen bones, improves digestion, prevents cancer, and more.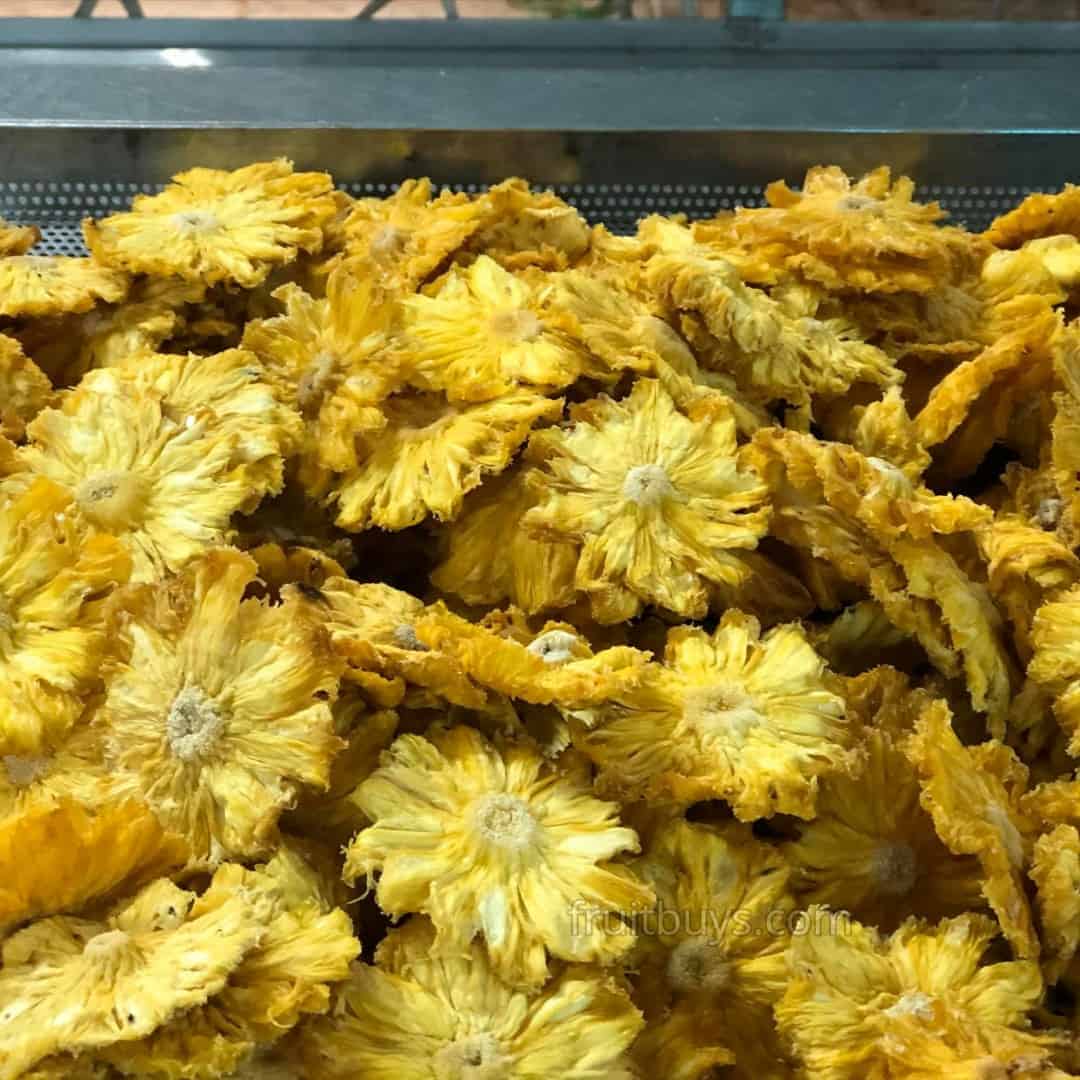 This article will help you understand how healthy is FruitBuys Vietnam's dried pineapple no sugar added
Treatment of colds and coughs:
It is believed that vitamin C benefits the immune system and strengthens the body's ability to fight illnesses such as colds and coughs by strengthening white blood cells that fight infections in the body when they are exposed. with them
Dried pineapple without added sugar can strengthen bones due to its high calcium content which helps to keep bones strong. It also contains vitamin K which helps prevent osteoporosis by improving bone density (3).
Good for the digestive tract
Unsweetened dried pineapple is packed with nutrients like fiber that improve digestion by keeping things moving through your digestive system smoothly so that food doesn't stay in your stomach for too long before it goes. into the body.
Dried pineapple no sugar added is great for beautifying the skin as it contains antioxidants that make the skin glow from within while reducing the appearance of wrinkles caused by sun exposure over time! This fruit can also be eaten raw or cooked, allowing you to enjoy all its benefits without worrying about any unhealthy side effects!
Dried pineapple has no added sugar and is a great on-the-go snack. It's packed with vitamins and minerals, which can help boost your immune system and provide support for your bones, teeth, eyes, skin, and more. Dried pineapple can help prevent cancer and boost your digestive health!
What is the nutritional value of dried pineapple no sugar added?
Nutrition Facts of Dried Pineapple No Sugar Added
Serving size: 100 g – Amount per serving
Calories: 350
Total Fat: 0.5g 1%
Sodium: 35mg 2%
Total Carbohydrate: 82g 30%
Total Sugars: 67g
Protein: 4g
Calcium: 43mg 4%
Iron: 3.0mg 10%
Potassium: 755mg 15%
Sodium Chloride Content: 0.13g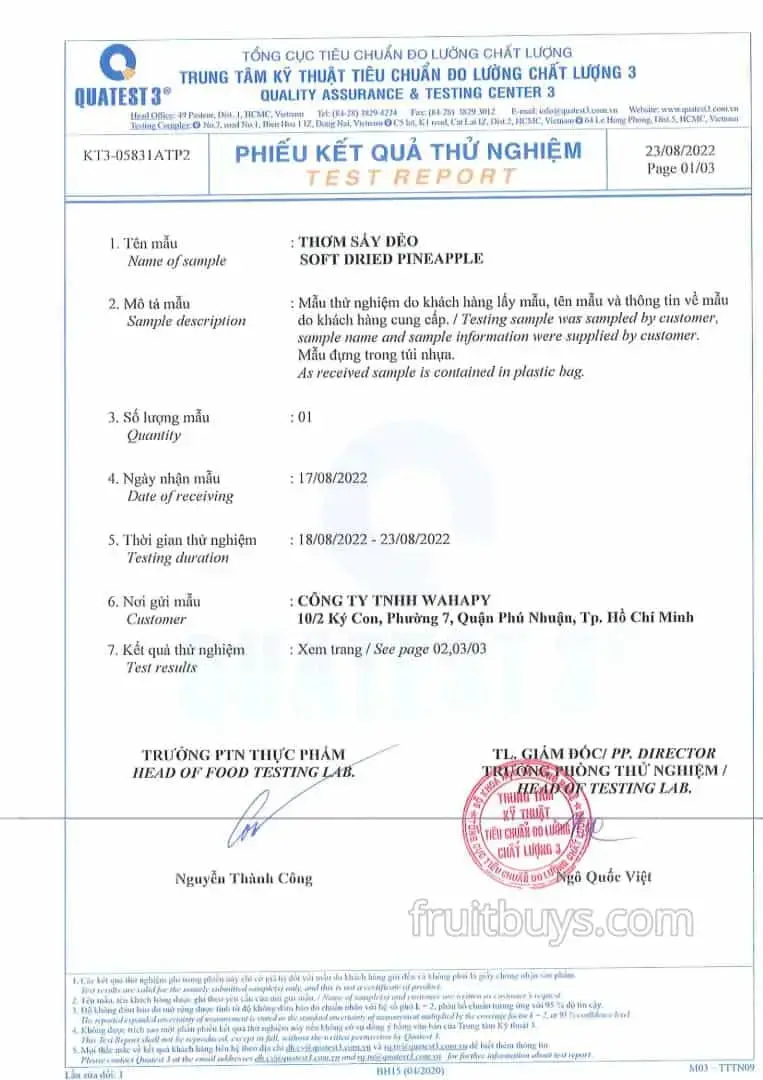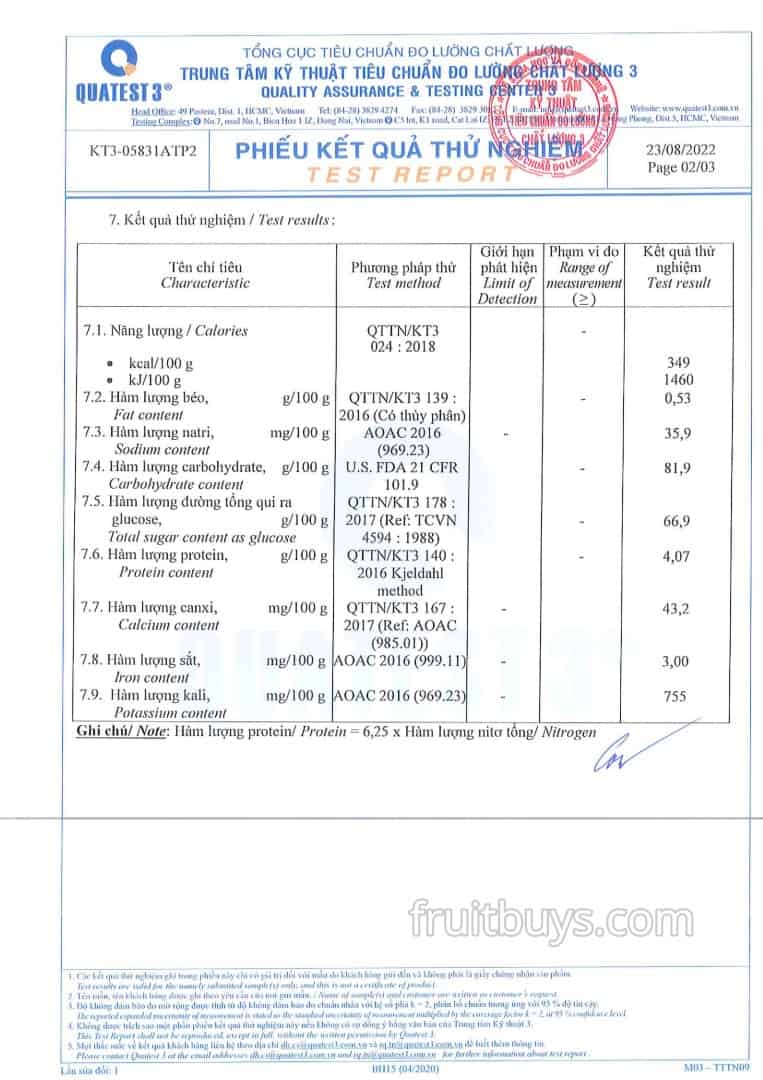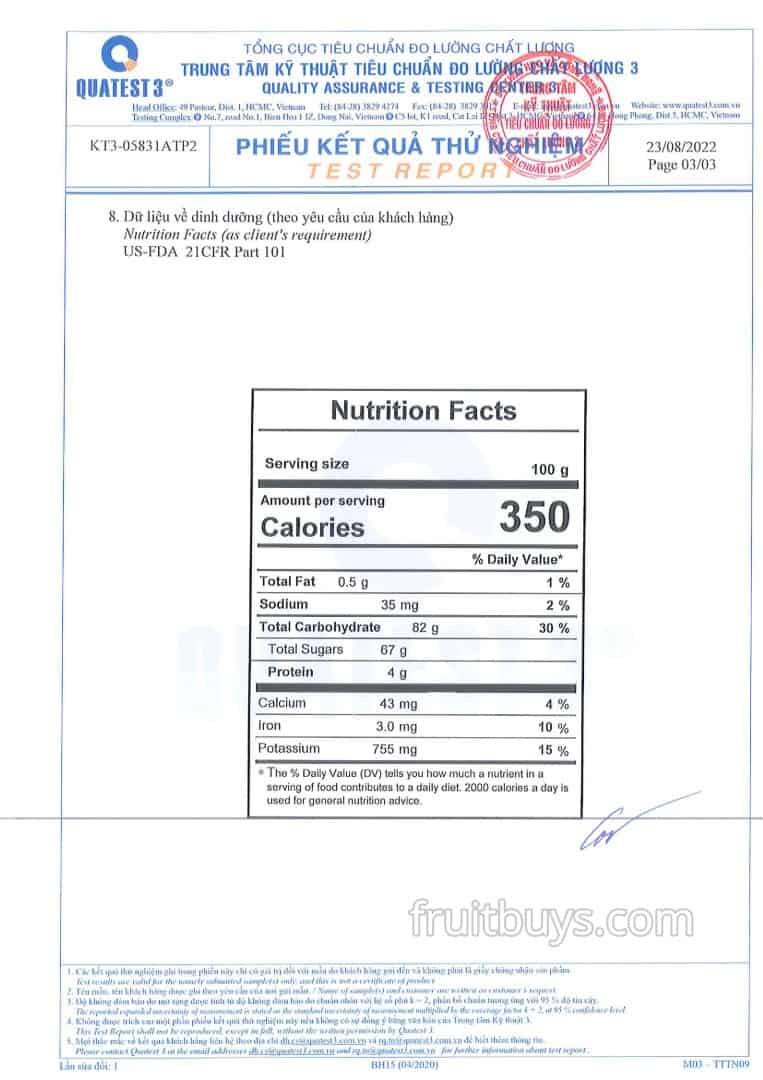 Can dried pineapple cause diarrhea?
Many people have asked if eating dried pineapple can cause diarrhea. Although it is true that eating dried pineapple can cause diarrhea, it is very rare. In fact, the causes of diarrhea due to dried pineapple are many, including low blood sugar, lactose intolerance and other foods with high sugar content in their ingredients.
In fact, the proteolytic enzymes in pineapples are greatly reduced when they are dried. This means that it will be difficult for you to stimulate your intestines after eating dried pineapple.
It is important to note that if you eat a lot of dried pineapple while drinking milk at the same time, you will irritate the stomach and intestines and produce mild food poisoning symptoms such as headache and diarrhea.
Dried pineapple can cause diarrhea if eaten with milk because there is an interaction between the proteins in the milk and the acids in the dried pineapple. This can irritate your stomach and intestines, which can lead to mild food poisoning symptoms like headaches and diarrhea.
Can you eat too much dried pineapple?
Are you a pineapple lover? If so, fresh pineapple is not always available so FruitBuys' dried pineapple no sugar added  is the best choice for you when craving pineapple. You may be surprised to learn that unsweetened dried pineapple is a real fruit packed with nutrients and vitamins. It is also a good source of fiber and potassium, which can help keep your digestive system running smoothly.
Although no-sugar dried pineapple is delicious, when you eat too much dried pineapple can occur a number of symptoms that can affect your body such as:
Allergic reaction
Reactions to drugs in the body
Sensitive teeth
Increase blood sugar
Cause diarrhea
A lot of people love the delicious taste of dried pineapple, but it's important to know how much is too much. That's because dried pineapple is high in calories and sugar – and when you eat too much, it can cause a number of side effects.
No sugar added dried pineapple is a healthy snack that you can eat in moderation. The best way to avoid consuming too much dried pineapple is to eat just enough to satisfy your sugar cravings. If you plan to eat more than 150 grams of dried pineapple per day for any reason, you should consult your doctor immediately.
How do you store unsweetened dried pineapple?
You can preserve any fruit in a variety of ways. The most common method is freezing, but you can also add sugar and yeast to help preserve your fruit. And then there are methods like freeze drying, or 'dehydrating' your fruit by exposing the fruit to very dry air conditions for a certain period of time.
So, what is the best method to preserve your unsweetened dried pineapple? Which method will keep your dried pineapple no sugar added the longest? Let's find out together!
When it comes to preserving your dried pineapple, there are several best practices that you can adopt. First, if you don't eat it all at once, you should seal the mouth of the bag or close the lid carefully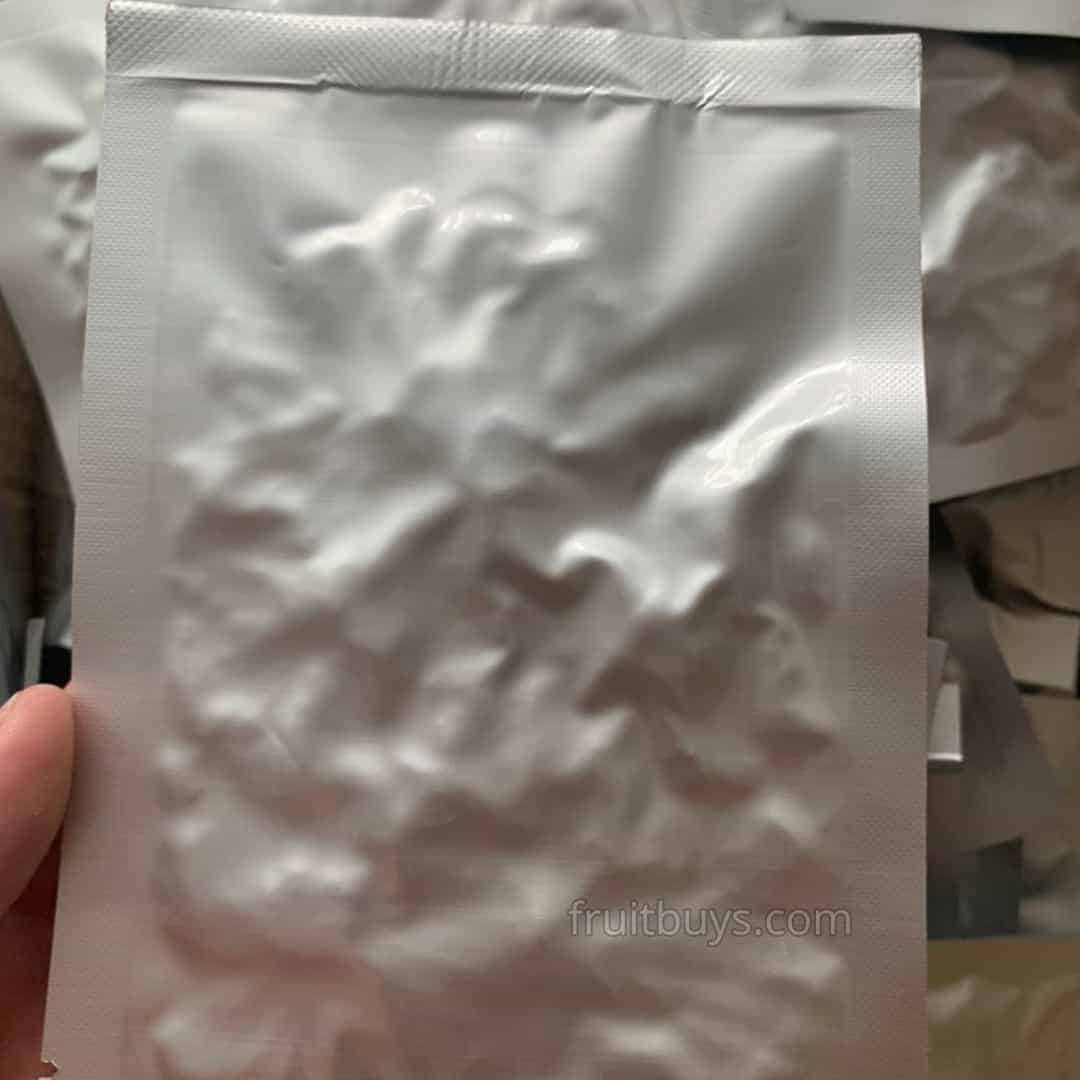 If possible, try to keep your dried fruits tightly sealed in an airtight bag or container so moisture and air don't get into them. This will help keep the quality longer and be less prone to mold before you can use it up!
Store dried pineapple in a clean, dry place, away from sunlight and moisture.
In addition, the safest and longest way to store dried pineapples is to keep them in the freezer. The temperature in the refrigerator will help the dried fruit keep its quality and longest.
How long will dried pineapple no sugar added keep?
Dried pineapple without sugar is a great choice for those who are looking to preserve their fruit.
If you're wondering how long unsweetened dried pineapple will last, we have some good news. Depending on the way of preservation, FruitBuys' dried pineapple no sugar added has the best shelf life of 6-9 months in sealed aluminum bags.
You can store your dried pineapples in sealed aluminum bags or other types of boxes that can be stored in a cool, dry place. The recommended storage temperature for dried pineapple is between 55 – 63 degrees F. You should also keep it out of direct sunlight and any other sources of heat.
You should not store dried pineapple for longer than 9 months as this can lead to spoilage and loss of quality. To prevent spoilage, keep your dried pineapples away from moisture and excess water during storage to prevent mold or mildew growth from the moisture inside your refrigerator when opened too often during the winter months. summer when the temperature outside is high!
Depending on the way of preservation, our unsweetened dried pineapple has the best preservation time from 6-9 months in a sealed aluminum bag environment.
Where to buy dried pineapple no sugar added?
Dried Pineapple no sugar added is a 100% natural dried fruit that is a great snack for your health and palate. FruitBuys is a wholesaler of fresh and organic fruit from Vietnam. We offer high quality products at affordable prices in bulk. We will help you find the best prices on our products.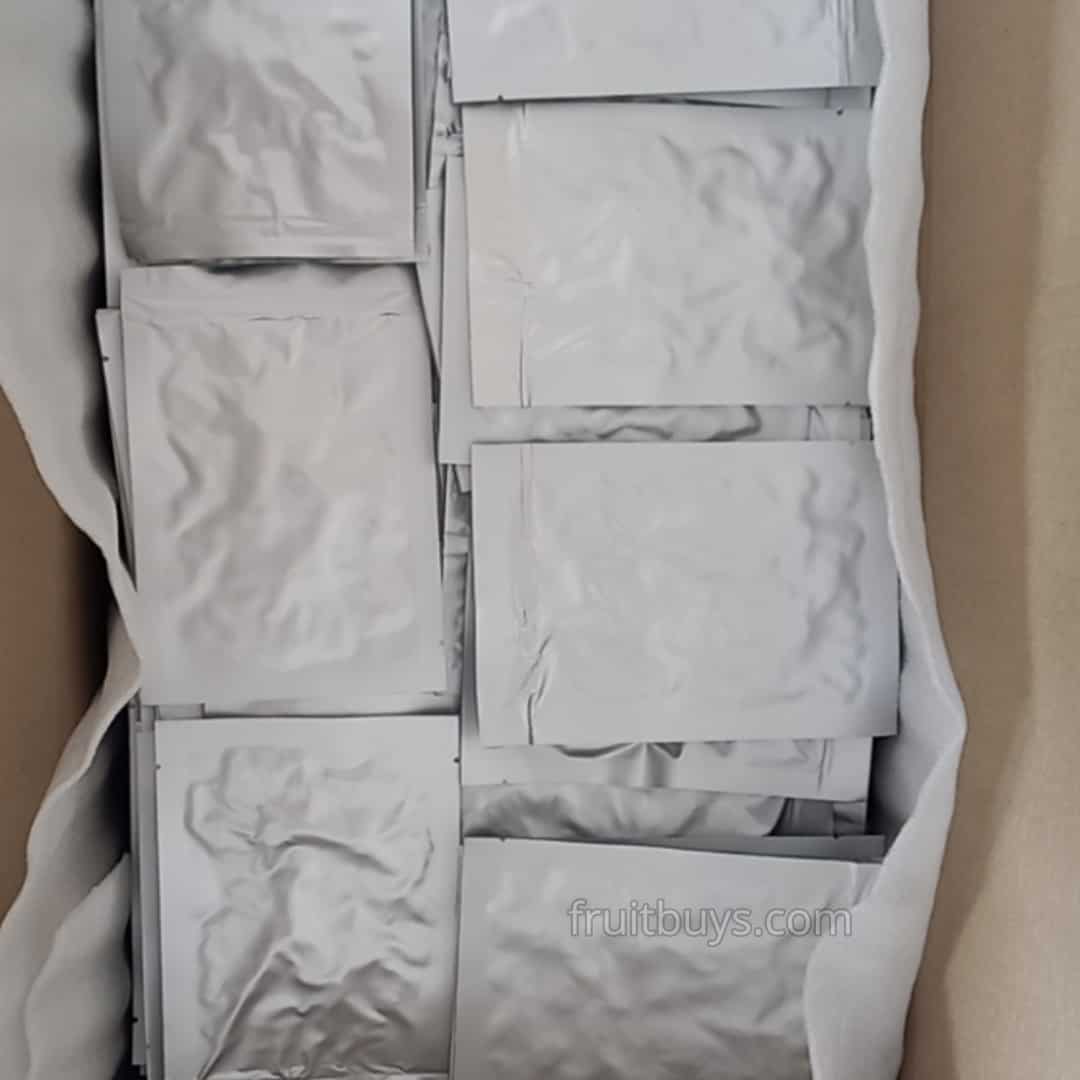 We are proud to offer you the best dried fruit on the market, from our own brand of dried pineapple no sugar added
Our dried fruit is made with only the finest ingredients and uses modern drying methods to ensure maximum shelf life, flavor and quality. We are proud to say that our dried fruit is of the highest quality on the market and we guarantee that you will be satisfied with your purchase.
Dried Pineapple No Sugar Added
$0.99/ 100g (3.53 Ounces)
About this item
Dried pineapple no sugar added is a healthy snack for everyone, especially those who are watching their weight.
FruitBuys Sugar-Free Dried Fruits are gluten-free and made with natural ingredients that are easily digestible and contain no preservatives. It can also be used as a snack for vegans, those following a gluten-free diet, and those looking to lose weight.
You can buy dried pineapple no sugar added in bulk at the cheapest price with excellent quality from FruitBuys Vietnam.
Our unsweetened dried pineapple is perfect for any type of snack. Whether you are looking for a healthy snack or want to lose weight, our dried pineapple without sugar is sure to satisfy your cravings.
We also offer a wide range of other products such as low-sugar dried fruits, dried fruits no sugar added and freeze-dried fruits, healthy snacks and more! If you have any questions about our products or would like more information about them, please contact us today!
Specifications of Soft Dried Pineapple (No Sugar Added)
| | |
| --- | --- |
| Product name: | Soft Dried Pineapple (No Sugar Added) |
| Main material: | Fresh Pineapple |
| Cultivation type: | Common, Open Air |
| Processing method: | Heat dried at 45°C to 65°C |
| Max. moisture (%): | 15 |
| Taste: | Natural sweetness, soft and chewy, full of pineapple original flavor |
| Color: | Yellow |
| Feature: | 100% soft-dried fruit, nothing else added. Absolutely NO additives or preservatives, very good for children and the elderly. Delicious, natural, healthy fruit snack products made from real fruit and full of nutrition like fresh fruit |
| Certification: | HACCP/ISO/CO/Phytosanitary/Test report/ Nutrition facts |
| Use: | Snacking, providing nutrition, vitamins and other ingredients |
| Storage instructions: | Store at the cool and dry place (13-17°C) |
| Shelf life: | 6 - 9 months |
| Country_of_origin: | Vietnam |
| Brand name: | FruitBuys |
| HS code: | 20089990 |
| Manufacturing_lead_time: | 20 - 25 days / 3 tons |
| Port of loading: | Cat Lai port |
| Container capacity: | 20ft/ 520 ctns - 40ft/ 1100 ctns |
| Packaging: | 100g, 500g retail package, bulk package 10kg |
| Box size: | 30x40x50 cm |
| Weight (kg/box): | 10 kg |
| Sample time: | 7 working days (depending on when we will confirm the exact delivery date) |
| Payment terms: | T/T 40% production deposit, the rest 60% to be paid before shipment or through L/C |
| Shipping method: | FOB, CIF,DDP( Can to Amazon FBA directly) both by sea and by air |
| MOQ: | 10 kg |
| Additional: | OEM/ODM service is welcome |
Categories
You may also like…
$

1.19

/ 100g (3.53 Ounces)