Crispy Dried Lotus Seeds produced by FruitBuys are made from 100% Natural, Vegan, Gluten-free, GMO-free, Crispy and High Quality fresh lotus seed ingredients.
Snacks Crispy Dried Lotus Seeds has a delicious taste so it can be eaten whenever you feel hungry as it is good food for your health and longevity.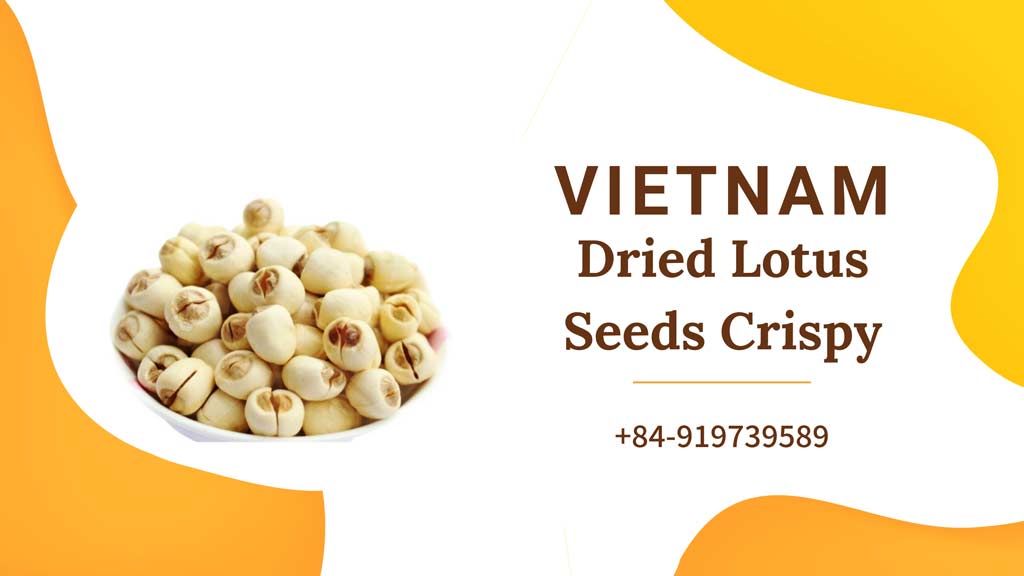 Lotus seeds originate from Dong Thap – Western Vietnam. The product is made by vacuum frying with vegetable oil.
Lotus seeds have a variety of nutrients: fiber, calcium, etc. Crispy Dried Lotus Seeds are one of the healthy snacks. The product is manufactured by vacuum, cooling and frying process
Our Crispy Dried Lotus Seeds are lightly aromatic, and their sweet, nutty flavor and subtle crispiness are a real symphony for the senses.
We dry our Lotus Seeds under natural, slow and low heat conditions, giving the seeds our signature golden crispiness.
Meanwhile, Crispy Dried Lotus Seeds contain 18% carbohydrates, 13% fiber, 7% protein, 7% phosphorus, 6% iron, 1.5% thiamine and 0.6% riboflavin. Therefore, it is an important food for pregnant women before and after giving birth and for babies, dry lotus seeds should be used to prevent
Lotus seeds in the shell of this fruit can be used for snacks, making banh khot, cookies, sweet dishes.
Crispy Dried Lotus Seeds are roasted crispy, with a strong aroma, pleasant sweetness of natural lotus seeds.
FruitBuys' spirit of learning has existed since the very beginning. We grew up as the younger generations of a family business that has been helping Vietnamese people enjoy the taste of gourmet food with pride since 1997.
Fruitbuys is where the spirit of dedication in us, is instilled in us by our family. In the early 1990s, our family made some important decisions to take the company international.
Since then, our team has set a further vision and we welcome worldwide customers to cooperate and develop dried fruits in general and Crispy Dried Lotus Seeds in particular. We want to develop together with you for a long time and your success is our happiness.
Crunchy Lotus Seed Snacks
$0,89/ 50g (1.77 Ounces)
About this item
Sources in the food industry said that the consumption of fresh lotus seeds in Vietnam in 2015 was 33 tons, and the value of pressed lotus seeds was more than 3,000 billion VND ($159 million). This item is currently facing fierce competition with other imported dried fruits
Crispy Dried Lotus Seeds Delicious Good Energy Supplement (Dried Lotus Seeds) has a unique, addictive, crunchy taste. Deep-fried lotus seeds, a popular Vietnamese dish processing ingredient. Our product is one of the most popular dried fruits in Vietnam.
Crispy Dried Lotus Seeds have an irresistible flavor that is at the core of Vietnam's growing food industry in recent years, especially the snack food industry. Today's Dried Lotus Seed Snack is an outstanding product
Welcome to visit FruitBuys's factory and contact us if you have any questions. We look forward to becoming a partner for your business in Vietnam. We provide 100% available samples for FREE (for you to see the quality and approval)
Specifications of Crunchy Lotus Seed Snacks
| | |
| --- | --- |
| Product name: | Crunchy Lotus Seed Snacks |
| Main material: | Fresh Lotus seed |
| Cultivation type: | Common, Open Air |
| Processing method: | Vacuum Frying |
| Max. moisture (%): | 10 |
| Taste: | Natural sweetness and crispy, full of lotus seed original flavor |
| Color: | Natural |
| Feature: | 100% lotus seeds, nothing else added. Absolutely NO additives or preservatives, great for weight loss and snacking. Delicious, natural, healthy fruit snack products made from real fruit and full of nutrition like fresh fruit |
| Certification: | HACCP/ISO/CO/Phytosanitary/Test report/ Nutrition facts |
| Use: | Snacking, providing nutrition, vitamins and other ingredients |
| Storage instructions: | Store at the cool and dry place |
| Shelf life: | 9 - 12 months |
| Country_of_origin: | Vietnam |
| Brand name: | FruitBuys |
| HS code: | 20089990 |
| Manufacturing_lead_time: | 20 - 25 days / 10 tons |
| Port of loading: | Cat Lai port |
| Container capacity: | 20ft/ 450 ctns - 40ft/ 950 ctns |
| Packaging: | 50g, 500g retail package, bulk package 10kg |
| Box size: | 30x30x60 cm |
| Weight (kg/box): | 10 kg |
| Sample time: | 7 working days (depending on when we will confirm the exact delivery date) |
| Payment terms: | T/T 40% production deposit, the rest 60% to be paid before shipment or through L/C |
| Shipping method: | FOB, CIF,DDP( Can to Amazon FBA directly) both by sea and by air |
| MOQ: | 10 kg |
| Additional: | OEM/ODM service is welcome |
Categories
You may also like…