Starting a dried fruit business is difficult. Factories need to be inspected and approved by the government, production and machinery costs need to be rearranged to produce superior quality, and marketing programs need to be implemented to increase export volumes.
FruitBuys started with a mission to improve living conditions in a healthy and environmentally friendly manner. It dismayed us by the tasteless, high in sugar, and unhealthy snack options available in the market.
There are fantastic ones but they are too expensive, so we have created the best quality dried fruits at the most affordable price. We searched for the best quality fresh fruit from famous growing regions in Vietnam. And now, we are delivering these wonderful dried fruits to you. What makes our dried fruit products so special?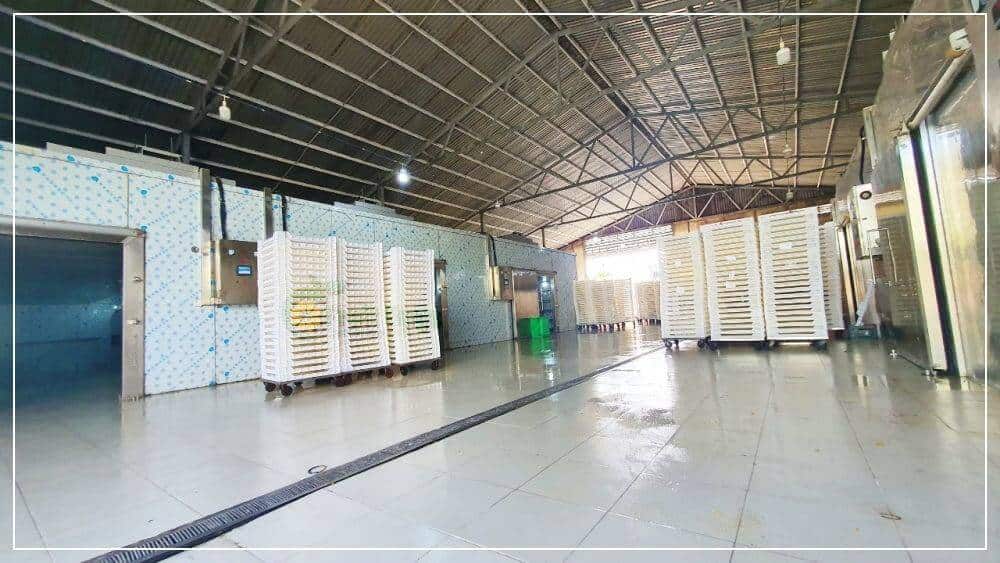 How did we create the dried fruit business?
FruitBuys is a brand of dried fruit of Wahapy Co., Ltd and was established as a manufacturing and exporting company in 2018 and now we have over 50 employees and work on a larger scale to market our products. Continues to bring high quality and safe dried fruit products.
In order to maintain loyal customers and satisfy them with dried fruit products that are good for them and their families, we keep updating ourselves with new technologies and innovations to bring our customers new flavors and suitable for their family budget.
FruitBuys is committed to providing safe and high quality soft dried fruit, crunchy dried fruit and healthy nuts with the best service to all the customers we have around the world. Looking ahead, the company is currently the most promising and fastest growing company, with the most promising trends in the dried fruit and nut industry.
We believe that with the variety of products, FruitBuys wishes to share with everyone not only healthy food but also the lifestyle we create and give value to every customer. We sincerely believe freshness, convenience and enjoyment must accompany that enjoying delicious food.
For FruitBuys, satisfying customers with delicious, safe, healthy and convenient food while achieving quality, safety and efficiency will bring great trust and stability. Great for our customers and partners.
For example, market experts in North America, Europe, the Middle East, Africa, Australia, Southeast Asia and South America has well received our dried fruit and nut products. We believe that passion for our products is essential to the growth of FruitBuys.
Since the establishment of dried fruit business, we have deeply understood the value of quality and service. Those factors, combined with our efficient and ethical business practices, have resulted in a highly regarded business and closely connected operations favored by customers in these countries.
What are the values we want to work towards?
Integrity:
We are a company built and maintained by good people. By treating our employees, customers, and suppliers with integrity, we strive to win their unwavering loyalty and affection. We are honest, always do what we say, communicate well, take care of our employees and represent the brand we represent with the utmost care. It is important that our core values ​​are reflected in everything we do, because integrity is the foundation of our reputation.
We need to understand effective collaboration and apply it to every aspect of the business: from suppliers to customers, from strategy to production. What does that look like? To begin with, we treat each other with respect and enthusiasm. We speak honestly and treat our colleagues with the same level of ambition and aptitude that we have. We never complain about other people's decisions, we take personal responsibility for our successes and when things don't go well, we look at our own efforts.
Customer Satisfaction:
Our service is dedicated to one thing and one thing only: customer satisfaction. We understand that there are many options on the market, including our competitors, but we strive to provide the greatest value for the lowest price. Customers are our greatest asset, and with their repeated business, our name is synonymous with quality and excellence.
Growth and Learning
At FruitBuys, we know the key to a successful and happy workplace is to enable employees to fully express themselves, their ideas and goals. We will create a place where people feel comfortable expressing their opinions and discussing their vision.
We also know that there's no room for negativity or judgment when you're trying to be truly helpful to others. We will create a safe and productive environment where everyone can trust each other and use their talents to the fullest.
Rebuilding from the ground up, we started FruitBuys with one goal in mind: to create an incubator for growth and learning. After years of trial and error, we found a solution. When complex employees are harnessed the freedom they need to freely express their ideas, they not only grow personally, but also grow the company.
In the spirit of freedom of expression, FruitBuys encourages young talents to learn and grow through collaboration. And through the combined contributions and ideas, we aim to make the world a more glorious place.
Our company believes in people. So we provide training and resources to help every employee find their voice, define their vision, and use their skills more effectively. As part of our vision of Empowering People, every FruitBuys employee is well-equipped to achieve success with the tools and resources for the job.
Leadership
Truly FruitBuys is a company where everyone is encouraged to be great. We want our employees to work hard to achieve their big dreams, and we are committed to helping them achieve those dreams.
Business: We will make important decisions and we will act as if they are; put others before ourselves, make time for everyone in our organization, and have integrity in all we do.
Be a leader, not a follower. Bold, not weak. Be humble, but confident. Be kind, not heartless. Be honest, not callous. Be grateful, not greedy. Excited but not bored.
Driven by your goals and passion for this industry and lifestyle. It's not about what the company can do for you. It's about what you can do for the company. The greatest leaders are humble and always open to learning new things. We will ensure that each person wearing a FruitBuys uniform is a leader in their field and in their personal lives. Together, we will raise the bar and set new standards in this industry.
Our Mission
Our mission is to help our customers succeed. To succeed, they need a solid foundation of knowledge, expertise and solutions. Our job is to provide that foundation, ensuring that our customers enjoy our company's core values: We have the best staff There is no one better at solving problems. Problem Solving We proactively continue to learn, advise and support
Building a company with a simple mission requires creating and balancing relationships. If a company can appreciate and serve everyone it interacts with – employees, customers, suppliers, and the community – then it will succeed.
As a company that thrives on nurturing relationships and communication, we start every project by asking questions and listening to understand the needs of others. Then we come up with solutions that work for everyone involved in the project. We are not only inclusive and interested in what we produce; we strive to excel in that area and keep our options open in the long run.
Every solution must fulfill our three-part mission: to be better every day, effectively providing our customers with the best products, market expertise and business solutions. We also firmly believe that we can do it
Learn More: Why dried fruits helps 9 industries increase sales by 30%
Our Vision
In a competitive, fast-paced environment where you can't take your eyes off the ball for even a minute, your company needs a partner who is always there with you, one who can quickly and effectively assist if need.
That's FruitBuys Manufacturing, a food products manufacturing and consulting specialist (our focus) dedicated to helping our clients grow their businesses. We maintain a detailed profile of your strengths and weaknesses, help you create the content you need to succeed in your industry, and when you see an opportunity, we're ready to scale.
We want to be the most sought-after manufacturer, supplier and consultant in helping our clients grow their business using exceptional products and valuable expertise. our service in serving a wide variety in the food market
[section padding="20px" padding__sm="32px" margin="-60px" divider_top="waves-opacity-3″ divider_top_width__sm="212″] [title style="center" text="FruitBuys Categories" size="180″ link="https://fruitbuys.com/fruit/freeze-dried-fruits/"] [title text="Freeze Dried Fruits" tag_name="h2″ size="120″ link_text="View all products" link="https://fruitbuys.com/fruit/freeze-dried-fruits/"] [row style="small"] [col span="8″ span__sm="12″ span__md="6″ padding="10px 10px 0px 10px" bg_color="#005500″ bg_radius="10″ color="light"] [ux_products style="normal" type="row" col_spacing="xsmall" columns__sm="2″ columns__md="2″ animate="bounceIn" show_cat="0″ show_rating="0″ show_price="0″ show_add_to_cart="0″ show_quick_view="0″ ids="2864,2938,2965,2926″ image_radius="5″ image_size="thumbnail" image_hover="zoom" text_hover="bounce"] [/col] [col span="4″ span__sm="12″ span__md="6″ divider="0″ padding="10px 10px 2px 10px" bg_color="#005500″ bg_radius="10″ depth="3″] [ux_image id="2868″ image_overlay="rgba(0, 0, 0, 0.2)" image_hover="overlay-add" link="https://fruitbuys.com/fruit/freeze-dried-fruits/" target="_blank"] [button text="Discover More" style="shade" radius="99″ depth="3″ depth_hover="5″ expand="true" link="https://fruitbuys.com/fruit/freeze-dried-fruits/" target="_blank" class="runglac"] [/col] [/row] [title text="Soft Dried Fruits" tag_name="h2″ size="120″ link_text="View all products" link="https://fruitbuys.com/dried-fruit/soft-dried-fruits/"] [row] [col span="4″ span__sm="12″ span__md="6″ divider="0″ padding="10px 10px 2px 10px" bg_color="#005500″ bg_radius="10″ depth="3″] [ux_image id="2870″ image_overlay="rgba(0, 0, 0, 0.2)" image_hover="overlay-add" link="https://fruitbuys.com/dried-fruit/soft-dried-fruits/" target="_blank"] [button text="Discover More" style="shade" radius="99″ depth="3″ depth_hover="5″ expand="true" link="https://fruitbuys.com/dried-fruit/soft-dried-fruits/" target="_blank" class="runglac"] [/col] [col span="8″ span__sm="12″ span__md="6″ padding="10px 10px 0px 10px" bg_color="#005500″ bg_radius="10″ color="light"] [ux_products style="normal" type="row" col_spacing="xsmall" columns__sm="2″ columns__md="2″ animate="bounceIn" show_cat="0″ show_rating="0″ show_price="0″ show_add_to_cart="0″ show_quick_view="0″ ids="0″ cat="20″ products="4″ image_radius="5″ image_size="thumbnail" image_hover="zoom" text_hover="bounce"] [/col] [/row] [title text="Crispy Fruit Chips" tag_name="h2″ size="120″ link_text="View all products" link="https://fruitbuys.com/fruit/crispy-snack-fruits-chips/"] [row] [col span="8″ span__sm="12″ span__md="6″ padding="10px 10px 0px 10px" bg_color="#005500″ bg_radius="10″ color="light"] [ux_products style="normal" type="row" col_spacing="xsmall" columns__sm="2″ columns__md="2″ animate="bounceIn" show_cat="0″ show_rating="0″ show_price="0″ show_add_to_cart="0″ show_quick_view="0″ ids="0″ cat="27″ products="4″ image_radius="5″ image_size="thumbnail" image_hover="zoom" text_hover="bounce"] [/col] [col span="4″ span__sm="12″ span__md="6″ divider="0″ padding="10px 10px 2px 10px" bg_color="#005500″ bg_radius="10″ depth="3″] [ux_image id="2867″ image_overlay="rgba(0, 0, 0, 0.2)" image_hover="overlay-add" link="https://fruitbuys.com/fruit/crispy-snack-fruits-chips/" target="_blank"] [button text="Discover More" style="shade" radius="99″ depth="3″ depth_hover="5″ expand="true" link="https://fruitbuys.com/fruit/crispy-fruit/" target="_blank" class="runglac"] [/col] [/row] [title text="IQF Frozen Fruits" tag_name="h2″ size="120″ link_text="View all products" link="https://fruitbuys.com/fruit/iqf-frozen-fruits/"] [row] [col span="4″ span__sm="12″ span__md="6″ divider="0″ padding="10px 10px 2px 10px" bg_color="#005500″ bg_radius="10″ depth="3″] [ux_image id="2869″ image_overlay="rgba(0, 0, 0, 0.2)" image_hover="overlay-add" link="https://fruitbuys.com/fruit/iqf-frozen-fruits/" target="_blank"] [button text="Discover More" style="shade" radius="99″ depth="3″ depth_hover="5″ expand="true" link="https://fruitbuys.com/fruit/iqf-frozen-fruits/" target="_blank" class="runglac"] [/col] [col span="8″ span__sm="12″ span__md="6″ padding="10px 10px 0px 10px" bg_color="#005500″ bg_radius="10″ color="light"] [ux_products style="normal" type="row" col_spacing="xsmall" columns__sm="2″ columns__md="2″ animate="bounceIn" show_cat="0″ show_rating="0″ show_price="0″ show_add_to_cart="0″ show_quick_view="0″ ids="0″ cat="193″ products="4″ image_radius="5″ image_size="thumbnail" image_hover="zoom" text_hover="bounce"] [/col] [/row] [/section]